From Libretto #3 (2022)
Dreamlands
School children from the Kinder Ballett Kompanie Berlin are working on a ballet version of PETER PAN. We asked some of them what they'd like to be when they grow up. Recorded by Carla von Braha, who plays Captain Hook
»Peter Pan? I'd never trust a bloke who flies through my room at night«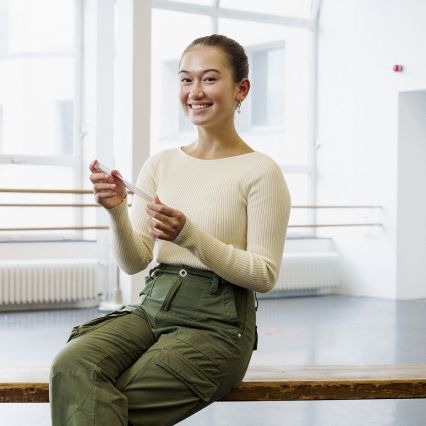 Josephina Mackensen © Max Zerrahn
Josephina Mackensen (19) plays Wendy I've got two dreams – one is unrealistic, one I'm already pursuing seriously. If I got a chance, I'd love to be in a Disney film, maybe as Wendy, like in our production. I can relate to her, she's family-oriented and helpful – but pretty naïve, too. I'd never trust a bloke who flies through my room at night! My other dream is to work in a laboratory and be part of a big genetics project. I've been studying Bioscience for a year now – which'll turn out to be even more exciting than what Wendy gets up to.
»I have a lot of dreams, but one thing I wouldn't want to be is a ballerina. It's much too tiring.«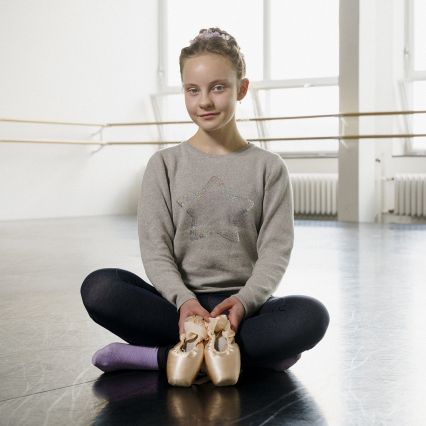 Sofia Kaspruk © Max Zerrahn
Sofia Kaspruk (11) plays one of the Lost Boys I have a lot of dreams but no fixed idea of what I want to do. Classical music has always been a big thing in my life. My aunt is a ballet dancer in Paris and my mum sings in the opera. The first time I saw auntie's ballet shoes, I immediately wanted to dance on my tiptoes too, and now I'm allowed to. But I still wouldn't want to be a ballerina, like, full-time. That would be a little too tiring. I could imagine myself managing a firm. At school I'm often the one in charge when we're doing project work. I also like drawing and designing clothes, but I probably wouldn't do that as a job. I like organising and planning things, and for a little time I was thinking of being someone who plans events or weddings. But hey, who knows what I'll be in the end? I've got lots of time to decide.
»I speak six languages, so it never occurred to me to do anything other than to make a career out of my passion.«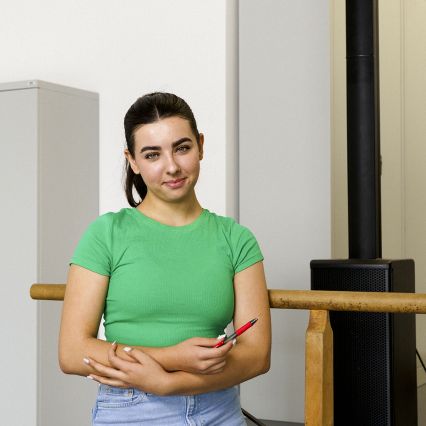 Mikaela Markgraf © Max Zerrahn
Mikaela Markgraf (15) plays the crocodile I'd like to be a teacher like my mother and grandmother. Learning languages comes easy to me, and I speak six, so it never occurred to me to do anything other than to make a career out of my passion. I used to want to be an interpreter, and since doing a work placement I've realised that I like working with children. At the moment I'm going on courses and getting certificates describing the level I've reached in such and such a language. My dream would be to go the States. English is my favourite language. It's quite easy to pick up and it's got a cool vibe to it. I'd like to study abroad for a semester, maybe in the US.
»I probably could've flown a small plane when I was 13.«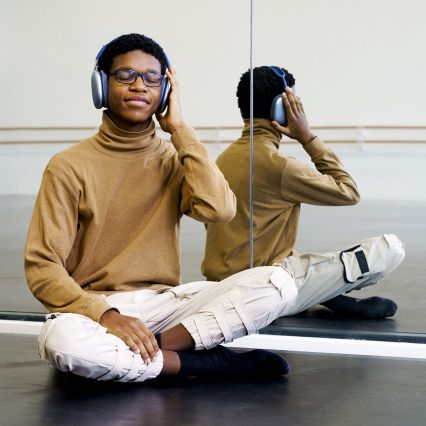 Dayo Kramer © Max Zerrahn
Dayo Kramer (17) plays Peter Pan I love the idea of flying, the surreal thought that you're above the clouds. The awesome scale of the space above you – you're so tiny and meaningless compared to it. I've wanted to be a pilot as long as I can remember. I've read so many books, watched so many documentaries, done so many simulations, that I probably could've flown a small plane when I was 13. In our production I play Peter Pan. I fly around on a wire construction. It's pretty amazing that I, of all people, am the one who gets to do that, and I'm massively grateful for the experience. After I've done my Abitur I really want to get to flight training school. I get all fired up by the link between science and progress. The only negative is the environmental side of it. So I'd need to be involved in the evolution of climate-neutral aeronautics.
»I dream of coming up with a scientific advance that makes a difference to people's lives.«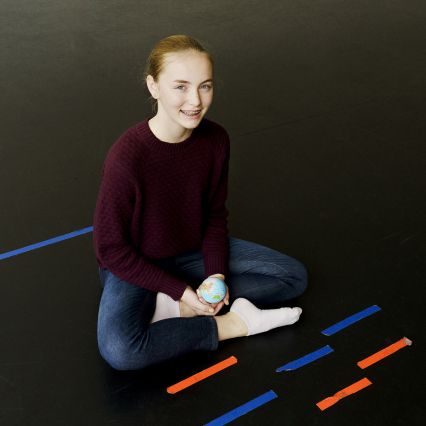 Gesa Jaacks © Max Zerrahn
Gesa Jaacks (14) plays a mermaid Maths and Physics fascinate me; they're my favourite subjects. When I get home from school, I read books on scientific subjects and do online programming courses. I dream of coming up with a scientific advance that makes a difference to people's lives. Science is a way of making the world a better place, which is exactly what I want to do. I've been doing ballet since I was two. It teaches you to be responsible and work as a team and be confident – all of which are things that will help me to live my dream.
»I like helping people. One day me and my friend would like to be psychologists together.«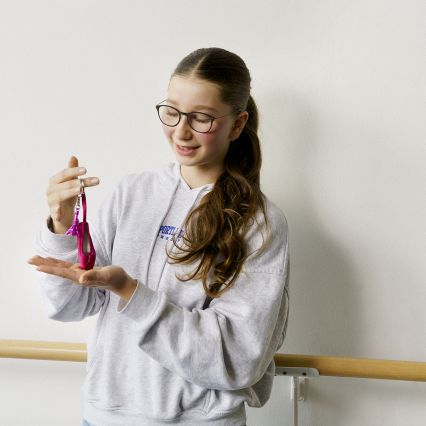 Livia Mai © Max Zerrahn
Livia Mai (13) plays a pirate Like a lot of girls, I wanted to be a professional dancer – and then I found out how much sweat and stress that involves. Still, I want ballet to have a bigger part in my life than something that just takes my fancy. It took ages for me to know what I wanted to be, until the brother of my uncle told me about his job as a psychologist. It immediately clicked with me, because I get joy out of helping people. My friends often come to me with their problems, and I find it easy to see things from their point of view and listen and give advice. You need very good grades to get a place on a course, but luckily I like studying and that even extends to homework. A friend of mine wants to be psychologist too. It's our dream to open a psychology practice together.