Curtain up for another Richard Strauss
Tobias Kratzer stages three operas by Richard Strauss, all of them about the stressfulness of modern relationships. They also reflect the changeful relationship between the composer and his partner in fate, von Hofmannsthal.
What do ARABELLA, INTERMEZZO and DIE FRAU OHNE SCHATTEN, which you are now combining in a small cycle, have in common?
These operas are about societies undergoing change, and what that means for identities, roles and relationships. At the same time, they also give us a reading of the state of the relationship between the creative duo of Strauss and Hofmannsthal. The middle period in Richard Strauss' output, which began in 1919 with DIE FRAU OHNE SCHATTEN, also marks a slight estrangement between him and his librettist Hugo von Hofmannsthal. The fact that Strauss just wrote his own libretto for INTERMEZZO, because Hofmannsthal found the tale too banal, offers the most obvious indication of this. But within their joint projects, they were also increasingly working at cross-purposes. Hofmannsthal would seem to be the more modern of the two – but it is the very tension between his libretti and Strauss' music that results in the most interesting works.
Strauss' reputation as a person is questionable, to say the least, but his music has plenty of faithful fans. How should his works be staged today?
Strauss' biography certainly has its fault lines, and he cannot be regarded a moral instance due to his relationship with the Nazi regime. It is often said about Strauss the composer that he started out as a revolutionary and then turned more and more conservative. Yet I also see an abrasive, challenging structure in his later works – underneath the compositions and their purportedly reactionary sound. We aim to illustrate this using the often-underestimated middle works.
The three operas are unusually close to the daily lives of middle-class people, being about marriage and professions…
At first glance, that is true, but for ARABELLA, I would beg to differ. The story looks bourgeois, but it has a lot of fairy-tale elements. Hofmannsthal died while working on ARABELLA, but everything he wrote for it reflects the ambiguity and contradictions of the modern age. He shines a merciless spotlight on the rigid social roles of the 19th century, shortly before their disappearance.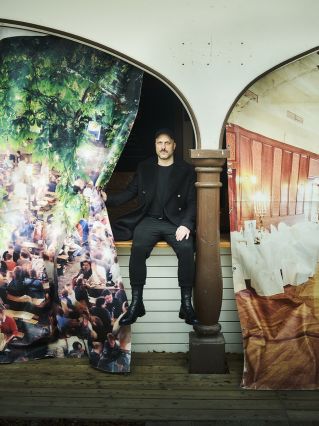 Tobias Kratzer © Julian Baumann
Yet matrimony in particular is rarely the subject of great operas.
It usually signals the beginning of the happy end. Strauss, on the other hand, used his own marriage as the model for INTERMEZZO – that was an innovation. The opera oscillates between a dream novella in the Schnitzler style and an auto-fictional protocol of real life.
DIE FRAU OHNE SCHATTEN, on the other hand, idealizes the classic mother role. Is that not antiquated?
I think that there are many women and men today who believe that parenthood lends meaning to their life. And I don't find that objectionable, but neither does one have to turn it into an ideology. To me, the interesting thing about FRAU OHNE SCHATTEN is something else – namely the social question. Here we have a poor couple, the Dyer's Wife and the Dyer, who are exploited by a rich couple. Today you can turn that into a reference to surrogate motherhood, even to the trade in organs. This power to control the lower classes, to physically control their bodies, unfortunately remains a current issue.
So is Strauss progressive and critical after all?
Sometimes he is current and modern despite himself. He has fascinating, extremely sensitive antennae for things that threaten to fall apart and go to pieces.
You are known as a director who likes to read works against the grain. What may we expect this time?
When I am working on a piece, at some point I am so deep into its world that I can only imagine it in this very interpretation. Whether a production is then perceived as true to the original or surprising is something I usually cannot even judge for myself anymore, once I've passed a certain point.