Elda Laro
©
Die vielseitige Pianistin und Dirigentin Elda Laro ist ab Januar 2016 als Korrepetitorin an der Deutschen Oper Berlin tätig. Zuvor war sie für drei Spielzeiten Studienleiterin am Theater Münster. Im Dezember 2015 folgte sie einer Einladung der Albanischen Nationaloper in Tirana und übernahm in drei Konzerten die musikalische Leitung des Oratoriums "Carmina Burana" von Carl Orff, worauf 2016 ihr Debüt als Dirigentin von Vincenzo Bellinis Oper I CAPULETI E I MONTECCHI am gleichen Haus erfolgte. Im Juni 2016 wirkte sie dort als Dirigentin und Cembalistin für COSÌ FAN TUTTE. Als Leiterin des Konzertchores Münster dirigierte sie verschiedene Konzerte, u. a. im Sommer 2014 das "Deutsche Requiem" von Johannes Brahms auf einer Italientournee.

Elda Laro begann ihre musikalische Laufbahn als Solopianistin und arbeitete dabei u. a. mit dem Orchestra del Teatro Regio Torino, dem Orchestra di Filarmonica di Torino, dem Orchestra Verdi Milano, dem Orchestra i Pomeriggi Musicali Milano, dem Orchestra della Val d'Aosta, dem Orchestra Arturo Toscanini und dem RTSH Orchester Tirana zusammen. Konzertreisen führte sie durch Italien, Spanien, Großbritannien, Österreich, Frankreich, Japan, Malaysia und die USA. Sie spielte unter so bekannten Dirigenten wie Marc Soustrot, Konrad Junghänel, Bruno Campanella, Donato Renzetti, Gustav Kuhn und Mstislaw Rostropowitsch.

Ihre Liebe zum Bel Canto führte Elda Laro zur Beschäftigung mit der großen Opernliteratur. Nach dem Abschluss ihrer Ausbildung an der Accademia del Teatro der Mailänder Scala arbeitete sie als Korrepetitorin an verschiedenen Opernhäusern in Italien und Europa, u. a. zwölf Jahre am Teatro Massimo Bellini di Catania, den Tiroler Festspielen/Erl, am Teatro Regio di Torino, der Fondazione Arturo Toscanini di Parma, dem Ravenna Festival und dem Festival d'Aix-en-Provence. Sie arbeitete mit zahlreichen renommierten Sängern zusammen, u. a. mit Giuseppe Giacomini, Mirella Freni, Carlo Bergonzi, Roberto Alagna, Renato Bruson, Fiorenza Cossotto und Edda Moser. In den letzten Jahren konzertierte sie u. a. mit so namhaften Sängern wie Ermonela Jaho (Nationaloper Tirana), Dimitra Theodossiu (Wigmore Hall / London) und Marcello Giordani (Athletic Club / New York City).

Die in Scutari / Albanien geborene Pianistin begann ihre musikalische Ausbildung in ihrer Heimat bei Fatmira Pelushi und Margarita Kristidhi an der Musikhochschule Tirana. Ein Stipendium führte sie daraufhin nach Italien in die Meisterklasse von Remo Remoli am Conservatorio Giuseppe Verdi in Turin. Weitere Stationen waren dann Paris (Claude Helffer) und Salzburg (Alfons Kontarsky). Ihre dirigentische Ausbildung setzt sie seit einiger Zeit mit dem renommierten Dirigenten Prof. Rüdiger Bohn (Düsseldorfer Musikhochschule) fort. In ihrer Zeit am Theater Münster war Elda Laro ebenso an der Musikhochschule Münster als Vocal Coach tätig.

Elda Laro ist vielfache Preisträgerin, so erhielt sie Erste Preise beim Concorso di Moncalieri in Turin (1991), beim Rassegna di Vittorio Veneto (1996) und beim Concorso di Grosseto (2000). 2009 erhielt sie den renommierten Premio Danzuso der Vereinigung "Amici della Musica di Catania". Bis heute ist Elda Laro eine gefragte Solistin und Kammermusikpartnerin, dies ist auch auf verschiedenen Aufnahmen dokumentiert: Erst kürzlich erschien ein Rezital mit der Sopranistin Dimitra Theodossiu, außerdem eine bei Chandos erschienene CD mit Kammermusik von G. Bottesini, die von der Financial Times London mit fünf Sternen ausgezeichnet wurde.
Songs of Exile and No Return
Videos
Video – 05:20 min.
Bernhard Gander: Lieder von Vertreibung und Nimmerwiederkehr
Video – 07:34 min.
Ein Probenbesuch: Les Vêpres Siciliennes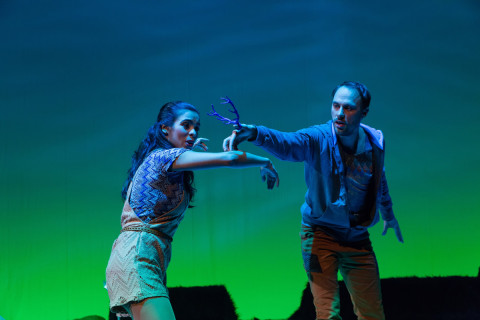 Video – 03:45 min.
Das Geheimnis der blauen Hirsche