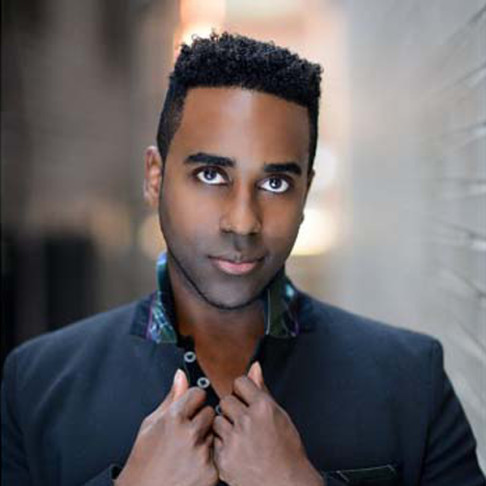 Tai Oney
© Agentur
Der US-amerikanische Countertenor Tai Oney ist Preisträger zahlreicher internationaler Wettbewerbe, darunter der renommierte Sullivan Foundation Award. Er war Finalist beim Cesti Singing Competition, Semi-Finalist im Rahmen des Palm Beach Opera Vocal Competition, und erreichte den zweiten Platz bei den Metropolitan Opera National Council Auditions. Sein Bühnendebüt gab Tai Oney am Boston Opera House zusammen mit dem Boston Baroque als Athamas in Händels SEMELE.

Im Laufe seiner Karriere wirkte er u. a. in Händels "Messiah" mit, in Haydns "Paukenmesse", Bachs "Johannes-Passion", in Bernsteins "Chichester Psalms", Orffs "Carmina Burana", Honeggers "Le Roi David". Tai Oney interpretierte die Partie des Piero della Francesca in Jonathan Doves SEVEN ANGELS, Ottone in L'INCORONAZIONE DI POPPEA, Tirinto in IMENEO im Rahmen des Londoner Händel Festivals sowie Oberon in Brittens A MIDSUMMER NIGHT'S DREAM. Mit der English Touring Opera gestaltete er diverse Vesper-Konzerte und war als Cover sowohl für Nerone als auch für Narciso in AGRIPPINA engagiert. Tai Oney war zu erleben als Teseo in Händels ARIANNA IN CRETA wieder im Rahmen des London Handel Festivals, sang Cherubino in Mozarts DIE HOCHZEIT DES FIGARO beim Opéra de Baugé Festival, Daliso in Händels IL DUELLO AMOROSO im Rahmen der Innsbrucker Festwochen der Alten Musik sowie Prinz Orlofsky / DIE FLEDERMAUS an der Finnischen Nationaloper. Zu seinen jüngsten Engagements zählen Adolfo / FARAMONDO mit dem Brisbane Baroque, Oronte im Rahmen der amerikanischen Erstaufführung von RICCARDO PRIMO am Opera Theatre of Saint Louis, Arsamenes / SERSE im Rahmen der Longborough Festival Opera, Hamlet / THE FIREWORK-MAKER'S DAUGHTER am Royal Opera House Covent Garden sowie an der Dallas Opera die Uraufführung von Jake Heggies GREAT SCOTT.

Künftige Gastierverträge führen ihn als Sorceress / DIDO AND AENEAS zur Birmingham Opera Company und wiederum in Jake Heggies GREAT SCOTT an die San Diego Opera. Zur English Touring Opera kehrt er als Endymion / LA CALISTO zurück und gibt in ebendieser Partie sein Debüt an der Opéra national du Rhin. Mit der Partie des Apollon in Benjamin Brittens TOD IN VENEDIG gibt er sein Hausdebüt an der Deutschen Oper Berlin.

Tai Oney war Ensemblemitglied an der Central City Opera und Gast am Palm Beach Opera young artist program. Seine Studien absolvierte er an der Stetson University, der Boston University, am New England Conservatory of Music sowie an der Royal College of Music International Opera School.
Schedule
Videos
Video – 04:11 min.
Death in Venice – The Making-Of
Video – 02:09 min.
Benjamin Britten: Death in Venice