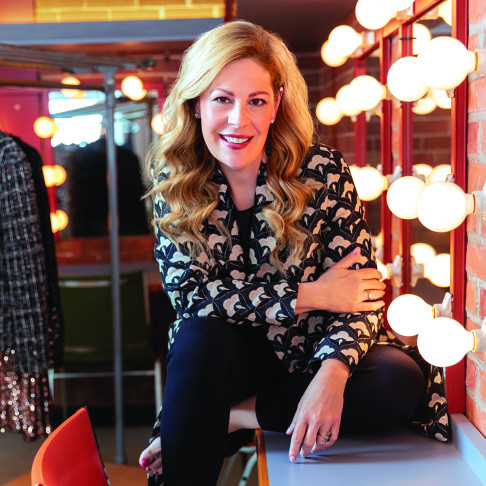 Sondra Radvanovsky
© Cedric Angeles
Die amerikanische Sopranistin Sondra Radvanovsky gehört heute zu den weltweit gefragtesten Interpretinnen ihres Fachs, vor allem der großen Verdipartien wie Leonore / DER TROUBADOUR – eine ihrer absoluten Bravourpartien –, wie Aida und Luisa Miller, Elvira / ERNANI, Elena / I VESPRI SICILIANI, Elisabeth de Valois / DON CARLO und Lina / STIFFELIO. Die tiefe Ernsthaftigkeit und große Intensität, mit der sie ihre Rollen gestaltet, hat ihr Presselob und Publikumstreue beschert. Zu ihren jüngsten Erfolgen zählen die Titelrollen in RUSALKA, LUCREZIA BORGIA und NORMA.

Die Metropolitan Opera entwickelte sich seit den späten 90er Jahren zu ihrem Heimathaus. Zunächst war sie dort Absolventin des Metropolitan Opera's Lindemann Young Artist Development Program und gewann 1995 die Metropolitan Opera National Council Auditions. Nachdem sie an der Met zunächst die kleineren Partien gesungen hatte, folgten bald die Titelpartie in LUISA MILLER und Antonia / HOFFMANNS ERZÄHLUNGEN. In der aktuellen Saison wird sie dort, was ihre Ausnahmestellung an diesem Haus eindrücklich demonstriert, alle drei großen Königinnen der Tudor-Opern von Gaetano Donizetti singen: die Titelpartien in ANNA BOLENA, MARIA STUARDA und Elisabeth in ROBERTO DEVEREUX. Zu den weiteren Höhepunkten der Saison 2015/2016 zählen u. a. MANON LESCAUT und TOSCA an der Deutschen Oper Berlin, TOSCA an der Bayerischen Staatsoper sowie AIDA an der Opéra national de Paris. Sie gibt Liederabende in Toronto und im Oman und wird in Berlin Solistin der Festlichen Operngala für die Deutsche AIDS-Stiftung sein.

Sondra Radvanovsky ist heute auf den großen Bühnen der Welt zu Hause, darunter das Royal Opera House Covent Garden, die Opéra national de Paris, das Teatro alla Scala di Milano, die Wiener Staatsoper, die Lyric Opera of Chicago sowie die San Francisco Opera. Auf dem Konzertpodium sang Sondra Radvanovsky u. a. Beethovens 9. Sinfonie mit dem Boston Symphony Orchestra und dem Verbier Festival Orchestra (beide unter James Levine), Rossinis "Stabat Mater" mit dem Orchestra of the Age of Enlightenment sowie "Messa da Requiem" mit dem Pittsburgh Symphony, dem Chicago Symphony unter David Zinman, dem Vienna Symphony Orchestra unter Fabio Luisi sowie beim Cincinnati May Festival unter James Conlon.

Sondra Radvanovskys Debüt-Album "Verdi Arias" ist im April 2010 im Label Delos erschienen. 2011 folgte "Verdi Opera Scenes", die sie zusammen mit ihrem langjährigen Bühnenpartner Dmitri Hvorostovsky sowie mit der Philharmonia of Russia unter Constantine Orbelian eingespielt hat. Ihre Diskografie beinhaltet auch DVDs, so CYRANO DE BERGERAC an der Seite von Plácido Domingo und im Rahmen der "Met: Live in HD"-Series DER TROUBADOUR, EIN MASKENBALL, DAS MÄDCHEN AUS DEM GOLDENEN WESTEN, OTELLO und FRANCESCA DA RIMINI.
Schedule
Aida
Pikowaja Dama - Queen of Spades
Videos
Video – 03:04 min.
Giacomo Puccini: Tosca [2018]
Video – 19:45 min.
Tosca, kommentiert von Lars Gebhardt
Video – 04:08 min.
"Vissi d'arte, vissi d'amore" (Tosca)