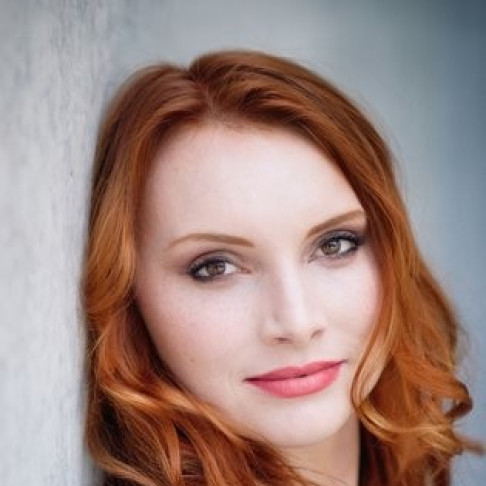 Davia Bouley
© Simon Pauly
Die amerikanische Altistin Davia Bouley hat in den letzten Jahren sowohl in den USA als auch in Europa Aufmerksamkeit erregt. Sie trat an zahlreichen Opernhäusern, Musikfestivals und in Konzerten auf, darunter die Cincinnati Opera, das Theater Dortmund, die Isarphilharmonie München, das Aspen Music Festival, die Indianapolis Opera, das Round Top Music Festival, die Berliner Philharmonie, die Alte Oper Frankfurt, das Festspielhaus Baden-Baden und die Deutsche Oper Berlin.

Ihr Debüt an der Deutschen Oper Berlin gab sie in der Spielzeit 2017/18 als 2. Paysanne / LE PROPHETE unter der Leitung von Enrique Mazzola. In der Spielzeit 2023/24 debütiert sie als La Maestra della Novizie / IL TRITTICO und Dritte Sekretärin / NIXON IN CHINA. Mit der Dritten Dame / DIE ZAUBERFLÖTE, Delia / IL VIAGGIO A REIMS, Lola / CAVALLERIA RUSTICANA, Bettlerin / DEATH IN VENICE und Hippolyta / A MIDSUMMER NIGHT'S DREAM ist sie ein häufiger Gast.

Zuletzt gab sie ihr Debüt als Siegrune / DIE WALKÜRE am Theater Dortmund und als Flosshilde / DER RING AN EINEM ABEND im Rahmen einer Tournee der Staatskapelle Weimar im Festspielhaus Baden-Baden, in der Isarphilharmonie München, der Weimarhalle, der Meistersingerhalle Nürnberg, der Alten Oper Frankfurt, der Liederhalle Stuttgart und der Berliner Philharmonie.

Als junge Künstlerin begann sie ihre Karriere in den USA als Dritte Dame / DIE ZAUBERFLÖTE und Giovanna / RIGOLETTO an der Cincinnati Opera, als Cherubino / LE NOZZE DI FIGARO beim Aspen Music Festival, als Little Buttercup / HMS PINAFORE und Kate Pinkerton / MADAMA BUTTERFLY an der Indianapolis Opera, als Silver Dollar / THE BALLAD OF BABY DOE an der Amarillo Opera, als Meg Page / FALSTAFF und in der Titelpartie von Bizets CARMEN beim Bay View Music Festival.

Ihr Konzertrepertoire umfasst Bachs "Magnificat", Mozarts "Requiem" und "Vesperae solennes de Confessore", Durufles "Requiem", Haydns "Theresienmesse", Beethovens 9. Symphonie und "Chorfantasie", Debussys "Trois Chansons", George Crumbs "Unto the Hills", Jean Bergers "Fünf Gedichte über Maria Stuart" und Händels "Messias".

Die gebürtige Südkalifornierin erwarb ihren Bachelor of Arts mit Schwerpunkt Gesang an der Pepperdine University, wo sie von dem Tenor Henry Price unterrichtet wurde. Ihren Master of Music in Vocal Performance erwarb sie am College-Conservatory of Music (CCM) der Universität von Cincinnati als Schülerin von Kenneth Shaw.
Schedule
Il trittico
Nixon in China
The Magic Flute
Videos
Video – 14:13 min.
Ritornell und Parade der Nationen (Finale - Il viaggio a Reims)
Video – 02:09 min.
Gioacchino Rossini: Il viaggio a Reims