Noa Frenkel
© Agentur
Die Kontra-Altistin Noa Frenkel ist eine äußerst wandlungsfähige Künstlerin, die mit ihrem großen Stimmumfang in einem breit gefächerten Repertoire von der Renaissance bis zur Zeitgenössischen Musik zu Hause ist.

Zu jüngsten Opernengagements gehören Gubaidulinas STUNDE DER SEELE mit Windkraft Tirol am Konzerthaus Wien, die Uraufführung von Thierry Pécous NAHASDZÁÁN mit dem Ensemble Variances an der Opéra de Rouen, Chaya Czernowins INFINITE NOW an der Vlaamse Opera und am Nationaltheater Mannheim sowie Hans Zenders DON QUIJOTE DE LA MANCHA mit dem Klangforum Heidelberg beim Frankfurt LAB.

Zu weiteren Opernpartien gehören Woman in ZAIDE/ADAMA von Mozart/Czernowin bei den Salzburger Festspielen, Frau Ocholowska in der Uraufführung von Johannes Kalitzkes DIE BESESSENEN am Theater an der Wien, La révérende Mère in François Parls' MARIA REPUBLICA und Dritte Dame in Mozarts DIE ZAUBERFLÖTE an der Angers Nantes Opéra, Madame Flora in Menottis THE MEDIUM und Philip Glass' AKHNATEN in Rotterdam, die Madrigaloper LA BARCA an der Nationale Reisopera, Stockhausens SONNTAG AUS LICHT an der Oper Köln unter Peter Rundel und PNIMA von Chaya Czernowin an der Staatsoper Stuttgart.

Auf der Konzertbühne war sie in Bernsteins "Songfest" mit dem MDR Sinfonieorchester, Brahms "Alt Rhapsodie" mit dem Israel Chamber Orchestra, Händels "Dixit Dominus" mit Luigi Nonos PROMETEO mit dem SWR Sinfonieorchester Freiburg/Baden-Baden und Ingo Metzmacher am Teatro alla Scala in Mailand, der Philharmonie Berlin, der Ruhrtriennale, beim Lucerne Festival sowie dem Festival d'Automne Paris zu hören, sowie mit dem israelischen Ensemble Musica Nova und Nonos "Guai ai gelidi mostri" bei den Salzburger Festspielen und den Wiener Festwochen.
Noa Frenkel ist mit Barock Ensembles wie Les Arts Florissants, Elyma Ensemble, Combattimento Amsterdam und dem Utrecht Baroque Consort aufgetreten. Zudem ist sie Mitbegründerin des Kassiopeia Quintetts, einer A-Capella Gruppe, mit der sie sämtliche Madrigale Carlo Gesualdos eingespielt hat.
Als gefragter Interpretin zeitgenössischer Musik haben zahlreichen Komponisten Stücke für sie geschrieben. Zusammen mit bekannten Ensembles wie Ensemble Modern, Schönberg Ensemble, Klangforum Wien, L'Ensemble Intercontemporain, MusikFabrik, Ensemble Variances, den Israeli Contemporary Players sowie dem Experimental Studio Freiburg (SWR) ist sie regelmäßig bei den großen Festivals in Europa zu Gast.

Zu den Höhepunkten der Spielzeit 2019/20 gehören Luigi Nonos AL GRAN SOLE CARICO D'AMORE am Theater Basel, eine Hauptrolle in der Uraufführung von HEART CHAMBER von Chaya Czernowin an der Deutschen Oper Berlin, die Rolle der Amba in Thierry Pécous Uraufführung UNTIL THE LIONS an der Opéra national du Rhin sowie eine Uraufführung von Óscar Escudero bei der Münchener Biennale 2020.
Schedule
Videos
Video – 04:15 min.
Unterwegs zu einer neuen Oper: Heart Chamber (2)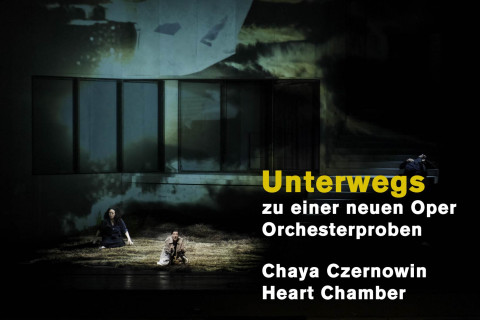 Video – 03:32 min.
Unterwegs zu einer neuen Oper: Heart Chamber (3)
Video – 42:57 min.
Chaya Czernowin: Heart Chamber. Ein Film von Uli Aumüller
Video – 01:56 min.
Chaya Czernowin: Heart Chamber
Video – 02:08 min.
Heart Chamber: Publikumsstimmen zur Uraufführung