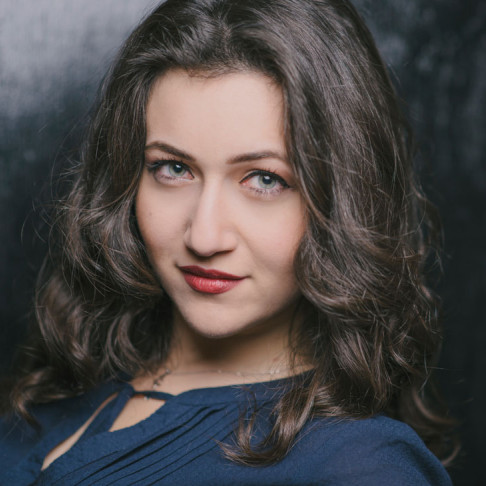 Mané Galoyan
© Simon Pauly
Die armenische Sopranistin Mané Galoyan – Gewinnerin des zweiten Operalia-Preises 2021, des Zarzuela-Preises und des Rolex-Publikumspreises – wird in der Saison 23/24 als Suor Angelica und Lauretta in einer Neuproduktion von IL TRITTICO mit Donald Runnicles an der Deutschen Oper Berlin, als Pamina in DIE ZAUBERFLÖTE an der Wiener Staatsoper, als Donna Anna in DON GIOVANNI mit der Canadian Opera Company, als Violetta in LA TRAVIATA an der Santa Fe Opera und der Deutschen Oper Berlin, als Suor Angelica an der Bayerischen Staatsoper und in der Titelrolle in DAS SCHLAUE FÜCHSLEIN an der Detroit Opera singen. In Konzerten wird sie Rachmaninows "Die Glocken" mit dem Schwedischen Rundfunkorchester und ein Weihnachtskonzert mit dem Sinfonieorchester Basel singen.

In der Spielzeit 2022/23 sang sie die Titelrolle in LUISA MILLER an der Oper Köln, Berthe in LE PROPHÈTE beim Festival von Aix-en-Provence, die als Aufnahme mit dem London Symphony Orchestra veröffentlicht wird, Avis in THE WRECKERS an der Houston Grand Opera, Donna Anna an der Atlanta Opera und Violetta an der Deutschen Oper Berlin und der Seattle Opera. Außerdem sang sie "Die Glocken" mit Gustavo Dudamel und dem Los Angeles Philharmonic und Bard Festival, Mahlers Symphonie Nr. 2 mit dem Seattle Symphony, ein Arienkonzert mit dem Prager Symphonieorchester und Plácido Domingo in Bad Hofgastein, Österreich, und Tanejews Kantate mit dem American Symphony Orchestra, die später als Aufnahme veröffentlicht wurde.

Als Ensemblemitglied der Deutschen Oper Berlin in den Jahren 2021 und 2022 sang sie unter anderem Pamina in DIE ZAUBERFLÖTE, Violetta in LA TRAVIATA und Corinna in IL VIAGGIO A REIMS. Als Gast gab sie ihr Debüt an der Niederländischen Nationaloper als Violetta und sang die Titelrolle in LUISA MILLER beim Glyndebourne Festival. Bei ihrem Debüt an der Pariser Opéra im Oktober 2021 sprang sie für eine erkrankte Kollegin als Adina ein und sang den Walter in LA WALLY mit dem Münchner Rundfunkorchester. In der Spielzeit 2020/21 debütierte sie am Opernhaus Zürich als Adina in L'ELISIR D'AMORE und sang an der Deutschen Oper Berlin Garsenda in FRANCESCA DA RIMINI.

In den vergangenen Spielzeiten gab Mané Galoyan ihr Debüt an der Metropolitan Opera als Prilepa und Chlöe in PIQUE DAME unter der Leitung von Vasily Petrenko. Als ehemaliges Studiomitglied der Houston Grand Opera hat Mané Galoyan Violetta, Gilda in RIGOLETTO und Adina gesungen. Sie war als Violetta beim Glyndebourne Festival auf Tournee, als Gilda an der Kentucky Opera und debütierte beim Hawaii Opera Theatre als Gräfin in LE NOZZE DI FIGARO.

Zu den symphonischen Engagements gehörten Rachmaninows "Die Glocken" mit James Gaffigan und dem Dallas Symphony Orchestra sowie mit Andrés Orozco-Estrada und dem Houston Symphony Orchestra. Mané Galoyan spielte auch ausgewählte russische Lieder mit der Chamber Music Society of Lincoln Center in der Alice Tully Hall, Mahlers Symphonie Nr. 2 mit dem Aspen Music Festival, Mahlers Symphonie Nr. 4 in G mit dem San Antonio Symphony und gab Liederabende am Balliol College der Universität Oxford, bei der Opera America Emerging Artists Recital Series in New York und im Museum of Fine Arts, Houston. Weitere Konzertauftritte waren Pergolesis "Stabat Mater", Schuberts Messe in G und Messe in C, Vivaldis "Gloria" und Haydns "Lord-Nelson-Messe", alle mit dem Armenian National Chamber Orchestra, sowie das Fauré-Requiem mit dem Armenian National Philharmonic Orchestra.

Mané Galoyan ist Preisträgerin zahlreicher internationaler Wettbewerbe, darunter der erste Preis beim 27. Eleanor McCollum Wettbewerb, der dritte Preis beim XV. Internationalen Tschaikowsky-Wettbewerb, der vierte Preis beim 6. Internationalen Gesangswettbewerb China in Ningbo, der dritte Preis beim Gesangswettbewerb der Dallas Opera Guild 2017, ein Preis beim Hans Gabor Belvedere Wettbewerb 2014 und der erste Preis beim Bibigul Tulegenova International Singing Competition in Kasachstan.

Mané Galoyan besitzt zwei Abschlüsse des Staatlichen Komitas-Konservatoriums in Jerewan, Armenien, wo sie 2013 zur Gewinnerin des Jugendpreises des Präsidenten der Republik Armenien ernannt wurde. Sie ist mit dem Dirigenten Roberto Kalb verheiratet.
Schedule
Videos
Video – 02:48 min.
"O mio babbino caro" (Gianni Schicchi)
Video – 02:47 min.
Giacomo Puccini: Il trittico