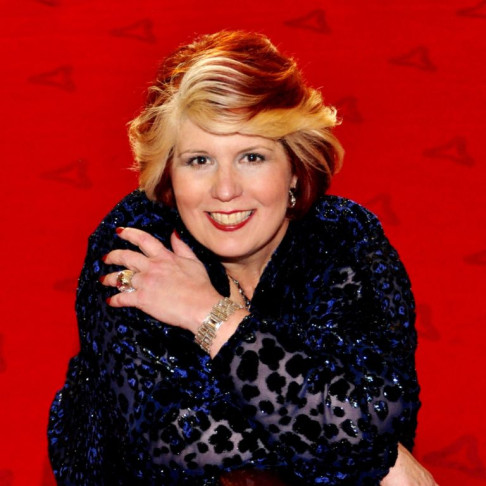 Marianne Cornetti
© Agentur
Marianne Cornetti, die weltweit als eine der führenden Verdi-Mezzosopranistinnen anerkannt ist, trat als Amneris in AIDA, Azucena in IL TROVATORE und Principessa di Eboli in DON CARLO an Theatern wie dem Teatro alla Scala auf, dem Royal Opera House Covent Garden, der Metropolitan Opera of New York, der Wiener Staatsoper, dem Teatro dell'Opera di Roma, der Deutschen Oper Berlin, dem Theatre Royale de la Monnaie Bruxelles, dem Maggio Musicale di Firenze, der Arena di Verona, der Bayerischen Staatsoper München, dem Gran Teatre Liceu de Barcelona, dem Teatro San Carlo di Napoli, dem NCPA Beijing und am New National Theatre Tokyo.

Weitere Verdi-Rollen in ihrem Repertoire sind Preziosilla in LA FORZA DEL DESTINO, die sie am La Monnaie de Bruxelles und am Liceu de Barcelona gesungen hat, Abigaille in NABUCCO an der Metropolitan Opera und am New National Theatre Tokyo, Lady Macbeth in MACBETH an der Deutschen Oper Berlin, Ulrica in UN BALLO IN MASCHERA am Royal Opera House Covent Garden London und an der De Nederlande Opera Amsterdam, Mrs Quickly in FALSTAFF an der San Diego Opera.

Im Jahr 2005 sang sie ihre erste Wagner-Rolle, die Ortrud in LOHENGRIN am Teatro Giuseppe Verdi in Trieste. Mit ihrem Debüt als Brangäne in TRISTAN UND ISOLDE am Teatro dell'Opera di Roma setzte sie die Eroberung dieses Repertoires fort. Seitdem hat sie die Rolle der Ortrud in Amsterdam, Paris und Palermo gesungen und ist als Brangäne in Genua aufgetreten.

Zu ihrem Repertoire gehören auch Rollen wie Principessa di Bouillon in ADRIANA LECOUVREUR (Teatro dell'Opera di Roma, Teatro Regio di Torino, De Nederlandse Opera Amsterdam, Opéra de Monte-Carlo), Santuzza in CAVALLERIA RUSTICANA (Teatro alla Scala), Laura in LA GIOCONDA (Deutsche Oper Berlin, Teatro Massimo di Palermo), Ježibaba in RUSALKA an der Minnesota Opera und Rosa in Cileas L'ARLESIANA, die sie in der Carnegie Hall mit dem Opera Orchestra of New York unter Eve Queler mit großem Erfolg sang.

Sie tritt häufig in Konzerten mit Werken wie Verdis "Requiem", Beethovens Symphonie Nr. 9, Rossinis "Stabat Mater", Elgars "Sea Picture" und De Fallas "El Amor Brujo" auf. Sie hat Cileas L'ARLESIANA und Puccinis EDGAR aufgenommen.

Zu ihren jüngsten Engagements zählen u. a. LA GIOCONDA (Cieca) bei den Chorégies d'Orange, RUSALKA in Pittsburgh, IL TROVATORE am NCPA Beijing, AIDA an der Opéra Royal de Wallonie in Liège, HÄNSEL UND GRETEL (Hexe) an der Pittsburgh Opera, GIANNI SCHICCHI und L'ENFANT E LES SORTILÈGES am Rohm Theatre Kyoto, Bunka Kaikan Tokyo und am Art Theatre Nagoya, CAVALLERIA RUSTICANA und IL TROVATORE an der Metropolitan Opera, ADRIANA LECOUVREUR (Principessa di Bouillon) an der Opéra de Monte-Carlo und am Teatro Massimo in Palermo, IL TROVATORE an der Oper Frankfurt und am Liceu de Barcelona, AIDA an der Arena di Verona, FALSTAFF (Mrs Quickly) an der San Diego Opera sowie ADRIANA LECOUVREUR am Teatro San Carlo in Neapel.

Künftige Gastauftritte führen sie u. a. in IL TROVATORE an die Pittsburgh Lyric Opera und nach Hongkong sowie als Cieca / LA GIOCONDA an die Deutschen Oper Berlin.
Schedule
In performances like