Jonathan Tetelman
© Stephen Howard Dillon
Jonathan Tetelman, der für seinen "stimmlich großartigen, strahlenden und unverwechselbaren Tenor" (Opera Aktuell) gelobt wird, unterzeichnete in dieser Saison einen Exklusivvertrag mit dem großen Plattenlabel Deutsche Grammophon und hat mit den Aufnahmen seines Debütalbums mit Arien und Duetten begonnen. Außerdem gibt er in dieser Saison drei große Rollen- und Ensembledebüts: als Stiffelio an der Opéra national du Rhin, als Jacopo Foscari an der Seite von Placido Domingo in I DUE FOSCARI am Teatro del Maggio Musicale Fiorentino und als Loris Ipanow in FEDORA an der Oper Frankfurt. Für sein Hausdebüt am Theater an der Wien wird er wieder in eine seiner Paraderollen, Mario Cavaradossi in TOSCA, schlüpfen, an der Oper Frankfurt singt er Duca di Mantova / RIGOLETTO. Mit Elina Garanca geht er auf eine Konzerttournee durch Österreich und Lettland und gibt in Las Palmas ein Arienkonzert mit Maestro Karel Mark Chichon und dem Orquesta Filarmónica de Gran Canaria.

In der vergangenen Saison kehrte er als Benjamin Franklin Pinkerton in MADAMA BUTTERFLY an die Semperoper Dresden zurück, gab sein Debüt an der Deutschen Oper Berlin als Paolo in FRANCESCA DA RIMINI, seine ersten Vorstellungen als Canio in PAGLIACCI bei einer Rückkehr an das Teatro Regio Torino, kehrte an der Opéra de Lille in die Rolle des Mario Cavaradossi in TOSCA zurück und sang Don José in CARMEN an der Seite von Elina Garanca bei einer Konzerttournee durch Osteuropa, die vom Bartók Radio übertragen wurde.

Kürzlich gab Tetelman sein Debüt am Royal Opera House in Covent Garden als Alfredo in LA TRAVIATA und Rodolfo in LA BOHÈME, sang Mario Cavaradossi in TOSCA am Teatro Regio Torino, an der Semperoper Dresden und am Gran Teatre del Liceu, gab sein Rollendebüt als Pinkerton in MADAMA BUTTERFLY an der Opéra national de Montpellier, sang die Titelrolle in WERTHER sowohl am Gran Teatro Nacional de Lima als auch an der Opera del Teatro Solis, Rodolfo in LA BOHÈME an der Komischen Oper Berlin, der English National Opera und dem Fujian Grand Theatre in China sowie Duca in RIGOLETTO beim Berkshire Opera Festival.

Auf der Konzertbühne sang Tetelman Beethovens 9. Sinfonie mit dem San Francisco Symphony Orchestra unter Maestro Michael Tilson Thomas und mit den Stuttgarter Philharmonikern unter Maestro Dan Ettinger, trat mit der Sopranistin Kristine Opolais in einer Galavorstellung in Moskau auf und sang mit den Wurth Philharmonikern in Künzelsau. Vor kurzem trat er auch mit den Kopenhagener Philharmonikern bei einer Verdi-Gala auf. Er sang Verdis "Messa da Requiem" mit dem Tanglewood Music Festival und dem Boston Symphony Orchestra, dem Milan Festival Orchestra und dem Greenwich Village Orchestra, Elgars "Dream of Gerontius" mit dem Orchestra Now, Dvoraks "Requiem" und "Stabat Mater" mit der St. George's Choral Society und gab zusammen mit der Sopranistin Nadine Sierra ein Konzert beim Festival Napa Valley.

Jonathan Tetelman absolvierte das Graduate Performance Studies Program an der New School of Music, Mannes College, und erwarb seinen Bachelor-Abschluss an der Manhattan School of Music. Er wurde in Castro, Chile, geboren und wuchs im Zentrum von New Jersey auf.
Schedule
In performances like
© 2013 © Marcus Lieberenz
Videos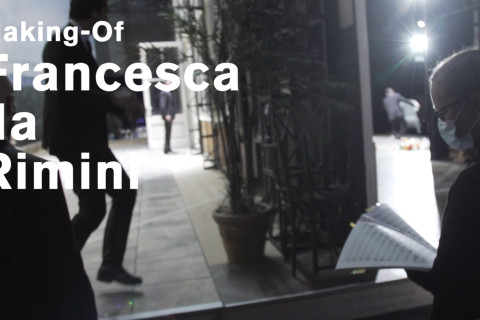 Video – 05:39 min.
Francesca da Rimini – The Making-Of
Video – 02:28 min.
Riccardo Zandonai: Francesca da Rimini
Video – 11:01 min.
Ein Pausenbesuch bei Francesca da Rimini