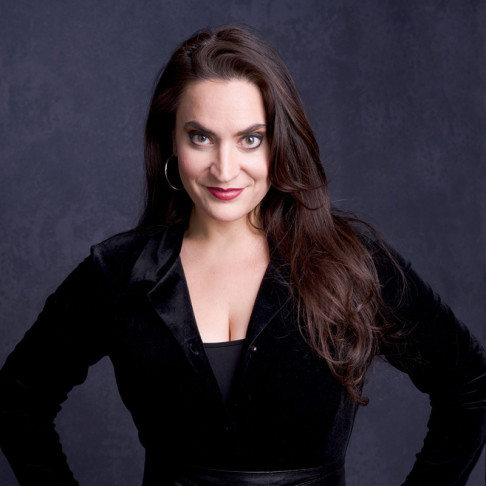 Nicole Piccolomini
© Hans-Martin Asch
Die amerikanische Mezzosopranistin Nicole Piccolomini wuchs in Long Island, New York, auf und studierte Gesang an der renommierten Juilliard School in New York.
Ihre Zusammenarbeit mit Dirigenten wie Daniel Barenboim, Philippe Jordan, Donald Runnicles, Ulf Schirmer und Christopher Sprenger führte sie an die wichtigsten Opernbühnen der Welt, u. a. an die Bayerische Staatsoper, die Deutsche Oper Berlin, De Nationale Opera Amsterdam, die Opéra national de Paris, die Oper Leipzig, ans Shanghai Grand Theater, an die Staatsoper Berlin oder das Teatro alla Scala in Mailand.

Ihre Paraderolle Maddalena / RIGOLETTO sang sie inzwischen in acht großen internationalen Produktionen in Europa und den USA – von der Opera di Firenze über die Deutsche Oper Berlin bis zur Lyric Opera in Chicago. Zum Kernrepertoire von Nicole Piccolomini gehören außerdem Partien in Opern von Dvorák, Mozart, Strauss, Verdi und Wagner. Sie war Maria de Buenos Aires in Piazzollas gleichnamiger Oper, Mistress Quickly in Verdis FALSTAFF, Erda in DAS RHEINGOLD und in SIEGFRIED sowie Erste Norn / GÖTTERDÄMMERUNG.

Zu Beginn der Spielzeit 2018/2019 sang Nicole Piccolomini die Rolle des Pagen in Richard Strauss Oper SALOME an der Oper Daegu in Südkorea. Außerdem kehrt sie an das Opernhaus Halle zurück und ist dort mehrfach in der Titelrolle von Astor Piazzollas Tango-Oper MARIA DE BUENOS AIRES zu erleben. Darauf folgt dann ihr Debüt in der Rolle der Klytämnestra in Richard Strauss ELEKTRA am Theater Bonn. Außerdem kehrt sie als Gräfin von Coigny / ANDREA CHENIER an die Deutsche Oper Berlin zurück.

In der Saison 2017/2018 arbeitete die Mezzosopranistin zum ersten Mal am Michigan Opera Theatre: Sie sang dort eine ihrer Lieblingsrollen: die der Maddalena / RIGOLETTO. Sie coverte die Rolle der Ježibaba / RUSALKA an der Oper Leipzig und debütiert an der Oper Halle in der Titelrolle von Piazzollas MARIA DE BUENOS AIRES. Im Mai 2018 sang sie Schwertleite / DIE WALKÜRE mit dem Dallas Symphony. Weitere Höhepunkte dieser Spielzeit waren De Fallas EL AMOR BRUJO mit dem Orchestra Filarmonica Campana in Pagani sowie ihre Zeit als Artist-in-Residence für Konzerte in Kunnersdorf, begleitet von Pianist Christoph Staude, mit dem sie auch ihr erstes CD Album mit Liedern von Mahler, Brahms, Pfitzner und Wagner eingespielt hat.

2015/2016 debütierte Nicole Piccolomini am Shanghai Grand Theater als Mistress Quickly / FALSTAFF und am Theater Bonn in der Titelrolle von Piazzollas MARIA DE BUENOS AIRES. Sie kehrte als Page / SALOME an die Deutsche Oper Berlin zurück und konnte als Erda / SIEGFRIED ihre gefeierten Auftritte an der Oper Leipzig wiederholen.

Im ersten Leipziger RING seit 40 Jahren sang Nicole Piccolomini in der Spielzeit 2014/2015 Erda / DAS RHEINGOLD (Rollendebüt) und in SIEGFRIED. Die Mezzosopranistin arbeitete mit dem Venice Chamber Orchestra, mit dem sie die "Wesendonck Lieder" an der Sala Concerti di Palazzo Pisano in Venedig aufführte. Nicole Piccolomini gab ihr Hausdebüt an der Santa Fe Opera als Maddalena / RIGOLETTO und am Teatro Lirico di Cagliari als Solokha in CHEREVICHKI. Gekrönt wurde die Saison von zwei Konzerten, beim Italia Arte Fest und mit dem Tschechischen Virtuosenorchester im Rudolfinum in Prag.


Sie debutierte an der Santa Fe Opera in der Rolle der Maddalena / RIGOLETTO, eine Rolle, die sie auch beim Caramoor International Music Festival verkörperte. Am Teatro Lirico di Cagliari war sie als Solokha in Tschaikowskijs PANTÖFFELCHEN zu sehen.

In der Saison 2013/14 gab Nicole Piccolomini ihr Rollendebut als erste Norn / GÖTTERDÄMMERUNG an der Nederlandse Opera in Amsterdam. Sie war Solistin in einer musikalischen Feierstunde der Kanonisierung der Päpste Johannes XXIII und Johannes Paul II in der DAR Constitution Hall in Washington D.C. (internationale Fernsehausstrahlung).

Zu ihren zahlreiche Rollen an der Deutschen Oper Berlin gehören u. a. Fenena / NABUCCO, Federica / LUISA MILLER, Flosshilde / DAS RHEINGOLD, 3. Dame / DIE ZAUBERFLÖTE, 1. Magd / ELEKTRA, Schwertleite / DIE WALKÜRE, Dryade / ARIADNE AUF NAXOS, Contessa di Coigny / ANDREA CHENIER, La Marquise de Langlade / MARIE VICTOIRE und Rosalia / TIEFLAND.

Des Weiteren hat sie international gastiert, u. a. als Padmâvatî / ROUSSEL am Spoleto Festival in Italien, Grimgerde / DIE WALKÜRE und Lola / CAVALLERIA RUSTICANA an der Opéra national de Paris, Azucena / IL TROVATORE am Teatro Verdi di Busseto, Ulrica / UN BALLO IN MASCHERA am Teatro Regio die Parma, am Teatro Communale di Modena und am Teatro Massimo Bellini di Catania. Sie gastierte als Maddalena am Teatro Maggio Musicale Fiorentino, am Opera Theatre of Saint Louis und an der Opera Delaware, als Musetta in Leoncavallos LA BOHEME mit der Opera de Oviedo, Grimgerde / DIE WALKÜRE mit dem Teatro alla Scala, an der Staatsoper Berlin und mit dem Runkfunksinfonieorchester Berlin. Sie sang Dryade / ARIADNE AUF NAXOS an der Bayerischen Staatsoper und die Titelrolle in Piazzollas MARIA DE BUENOS AIRES an der Gotham Chamber Opera in New York.

Gleichermaßen aktiv auf der Konzertbühne sang Nicole Piccolomini als Solistin in Leonid Desyatnikows "Russische Jahreszeiten" in Saratoga Springs (New York), Händels "Messias" mit der Bermuda Philharmonie, Verdis "Messa da Requiem" am Umbria Music Fest und ein Konzert mit Opernmelodien am New Jersey Opera Theatre.

Nicole Piccolomini absolvierte ihre Gesangsausbildung mit dem Bachelor of Music der Juilliard School, New York und nahm an jungen Künstlerprogrammen des Operntheaters von Saint Louis und des Caramoor Music Festivals teil. Von 2002 bis 2006 war die Mezzosopranistin "resident artist" an der Academy of Vocal Arts in Philadelphia und erhielt das Curt-Engelhorn-Stipendium der American Berlin Opera Foundation. 2010 wurde sie Stipendiatin der William Matheus Sullivan Foundation. Nicole Piccolomini ist außerdem ausgebildet in Ballett, Jazz- und Steptanz.
Schedule
Der Ring des Nibelungen – Die Walküre
Pikowaja Dama - Queen of Spades
Videos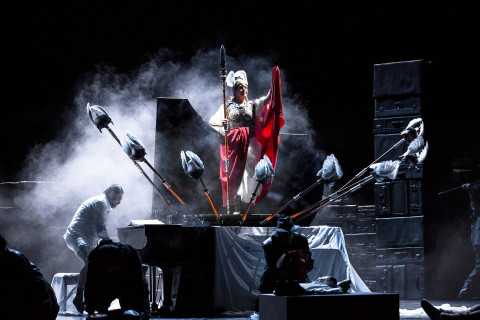 Video – 02:56 min.
Richard Wagner: Die Walküre