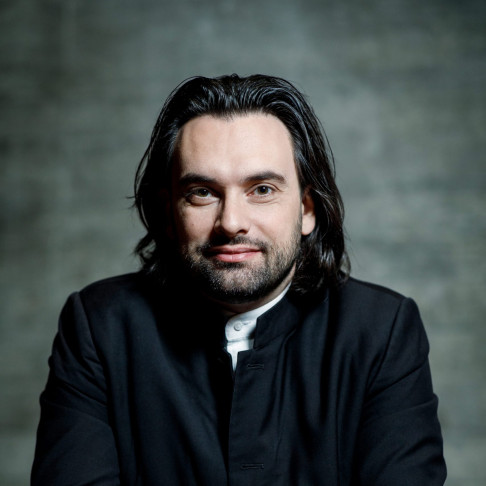 Daniele Squeo
© Agentur
Der italienische Dirigent Daniele Squeo ist ab der Spielzeit 2020/21 Generalmusikdirektor am Pfalztheater Kaiserslautern. Er gilt als Experte des italienischen Repertoires insbesondere der Belcanto-­Opern. Squeo ist Preisträger mehrerer internationaler Dirigentenwettbewerbe: 2011 gewann er mit Puccinis MADAMA BUTTERFLY den XVIII. Wettbewerb für Junge Dirigenten der Europäischen Union in Spoleto, Umbrien. 2013 folgte der 1. Platz beim 5. Deutschen Operettenpreis, außerdem ist Squeo Preisträger des 4. Dirigierwettbewerbs der mitteldeutschen Hochschulen in Leipzig mit dem MDR-Sinfonieorchester. Ab 2012 wurde er als Stipendiat des Dirigentenforums des Deutschen Musikrats gefördert.

Daniele Squeo studierte in seiner Heimat Italien Klavier und Chordirigieren. 2008 kam er als Assistent des Leipziger Nikolaikantors nach Deutschland. An der Hochschule für Musik Franz Liszt in Weimar absolvierte Squeo sein Bachelor- und Master-Studium im Fach Orchesterdirigieren bei Gunter Kahlert, Nicolás Pasquet und Anthony Bramall.

Ab 2009 leitete Squeo mehrere Orchester, darunter die Neue Philharmonie Westfalen, die Jenaer Philharmonie, die Philharmonie Essen, das Philharmonische Orchester Cottbus, das Orchester der Musikalischen Komödie Leipzig, das Orchester des Teatro Lirico Sperimentale di Spoleto, das MDR Sinfonieorchester, die Bremer Philharmoniker, die Pfalzphilharmonie Kaiserslautern, das Musikkollegium Winterthur, die Wiener Symphoniker, das Sinfonieorchester Basel, das Gewandhausorchester, die Philharmonia Zürich, die Philharmonie Baden-Baden, die Nürnberger Symphoniker, die Bochumer Symphoniker, die Mecklenburgische Staatskapelle Schwerin, das Orquestra Sinfonica de Bilbao, die Badische Staatskapelle Karlsruhe, das Orchester der Deutschen Oper Berlin, die Staatskapelle Dresden sowie das Moscow Philharmonic Orchestra.

2013/14 ging Daniele Squeo als Studienleiter und Kapellmeister an das Theater Nordhausen. 2014 wechselte er als Zweiter Kapellmeister ans Badische Staatstheater Karlsruhe und gastierte mit Mozarts ZAUBERFLÖTE beim Daegu International Opera Festival in Korea. 2016/17 wurde Squeo in Karlsruhe zum 1. Koordinierten Kapellmeister ernannt und leitete Neuproduktionen wie L´ELISIR D´AMORE, I CAPULETI E I MONTECCHI, ROMÉO ET JULIETTE, FAUST, ANNA BOLENA, DAS KLEINE SCHWARZE / THE RIOT OF SPRING, ROBERTO DEVEREUX und CARMINA BURANA. Squeo dirigierte zudem zahlreiche Repertoire-Produktionen wie DIE ZAUBERFLÖTE, LA BOHÈME, GISELLE, DORNRÖSCHEN, IPHIGENIE AUF TAURIS, FANTASIO, DER PROPHET, CARMEN, TOSCA, LA TRAVIATA, UN BALLO IN MASCHERA, MACBETH, SIMON BOCCANEGRA, ADRIANA LECOUVREUR, TURANDOT, DER FREISCHÜTZ, GÖTTERDÄMMERUNG, PELLÉAS ET MÉLISANDE sowie Sinfonie-, Sonder- und Jugendkonzerte.

2017 leitete Daniele Squeo im Theater Basel die Neuproduktion LA CENERENTOLA von Rossini, 2018 bei den Festspielen Bregenz die Oper IL BARBIERE DI SIVIGLIA unter der Regie von Brigitte Fassbaender. Seine 2016 begonnene Zusammenarbeit mit dem Musikkollegium Winterthur mit Tschaikowskijs DORNRÖSCHEN setzte er 2019 mit der Neuproduktion SCHWANENSEE und mehreren Sinfoniekonzerten fort. Im gleichen Jahr debütierte Squeo mit LUCREZIA BORGIA in der Tschaikowski Concert Hall in Moskau mit dem Moscow Philharmonic Orchestra. Parallel dirigierte er 2019 die neue Produktion RIGOLETTO bei den Festspielen Bregenz.

Unter den geplanten Gast-Engagements sind auch die Produktionen TURCO IN ITALIA und MacBeth am Opernhaus Zürich, Nino Rotas IL CAPPELLO DI PAGLIA DI FIRENZE an der Oper Graz sowie ANNA BOLENA an der Deutschen Oper Berlin und IL BARBIERE DI SIVIGLIA an der Semperoper Dresden.
Schedule
In performances like