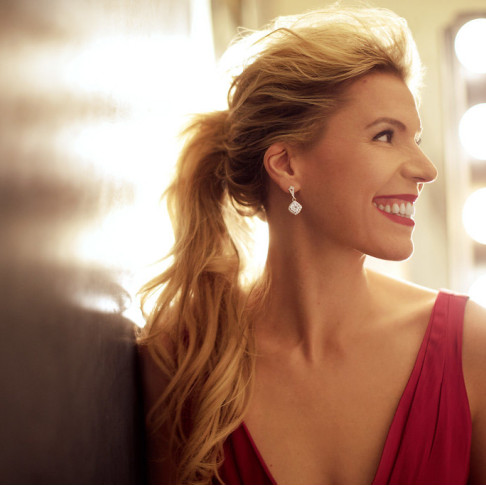 Georgia Jarman
© Claire McAdams
Stimmliche Gewandtheit in Verbindung mit einem ausgeprägten theatralischen Gespür und exzellenter Musikalität sind der Schlüssel zu Georgia Jarmans zahlreichen Erfolgen in Partien, die das lyrische und Belcanto-Repertoire umfassen, aber auch zu ihrem wachsenden Ruf in Werken des 20. Jahrhunderts und in Auftragswerken beitragen.

Von besonderer Bedeutung sind die bahnbrechenden Kompositionen von George Benjamin - WRITTEN ON SKIN und LESSONS IN LOVE AND VIOLENCE -, die Jarman bei der Biennale Musica in Venedig unter der Leitung des Komponisten, an der Staatsoper Hamburg, dem Gran Teatre del Liceu, der Opera National de Lyon und beim Beijing Music Festival mit dem Mahler Chamber Orchestra unter Lawrence Renes aufgeführt hat.

Ihren Durchbruch und ihr Debüt am Royal Opera House Covent Garden feierte sie als Roxana in Kasper Holtens spektakulärer Inszenierung von KROL ROGER, die auch im Kino zu erleben war und anschließend auf DVD veröffentlicht wurde. Zu ihren weiteren Debüts gehört Musetta / LA BOHÈME am Opernhaus Zürich, Helena / A MIDSUMMER NIGHT'S DREAM an der Opera Philadelphia, Lucia / LUCIA DI LAMMERMOOR an der Opéra National de Bordeaux, Gilda / RIGOLETTO bei ihrem Debüt beim Santa Fe Festival, alle vier Heldinnen in Richard Jones' Inszenierung von HOFFMANNS ERZÄHLUNGEN an der English National Opera, Maria Stuarda an der Washington Concert Opera und Manon an der Malmö Opera.

Als Erkundung des vernachlässigten Belcanto-Repertoires hatte sie zahlreiche von der Kritik gefeierte Auftritte beim ehemaligen Caramoor Summer Music Festival mit dem Orchestra of St. Luke's, darunter zuletzt Zenobia in Rossinis selten gespieltem AURELIANO IN PALMIRA, neben Norina / DON PASQUALE und Amina / LA SONNAMBULA.

Jarman gab 2019 ihr fulminantes BBC Proms-Debüt mit Szymanowskis Liebesliedern von Hafiz an der Seite des BBC Scottish Orchestra unter der Leitung von Ilan Volkov und sang in der vergangenen Saison ihr Debüt mit Brittens "War Requiem" im Rahmen der Saisoneröffnungsfeierlichkeiten zur Einweihung der neuen Großen Tonhalle der Stadt unter Kent Nagano und mit dem Tonhalle-Orchester. Auf den US-amerikanischen Konzertbühnen war sie in der vergangenen Saison mit dem Oregon Symphony Orchestra unter David Danzmayr in Bergs "Sieben frühen Liedern" zu hören, sang mit dem Cincinnati Symphony Orchestra unter der Leitung von Louis Langrée die c-Moll-Messe von Mozart, präsentierte zu Hause mit dem Atlanta Symphony Orchestra unter Dimitry Sinkovsky ein Programm mit Händel-Duetten und Mozart und trat erstmals als Solveig in PEER GYNT mit dem Milwaukee Symphony Orchestra unter der Leitung von Ken-David Masur auf. In dieser Saison wird sie Händels "Messias" mit dem Charlotte Symphony Orchestra unter Christopher Warren-Green aufführen.

Giorgia Jarman gibt an der Deutschen Oper Berlin ihr Hausdebüt als Agnès in George Benjamins WRITTEN ON SKIN.
Schedule
In performances like