Carmen Giannattasio
© Foto Victor Santiago
Nachdem Carmen Giannattasio den Ersten Preis und den Publikumspreis beim renommierten "Operalia"-Wettbewerb in Paris 2002 gewonnen hatte, folgten Engagements an die großen Häuser der Welt. Der "Telegraph" verglich ihre Bühnenpräsenz mit der der großen Heroine Anna Magnani. Sie eroberte sich in kurzer Zeit das große dramatische Opernrepertoire des 18. und 19. Jahrhunderts, mit dem sie in Europa und Amerika unter den bedeutendsten Dirigenten und Regisseuren arbeitet.

Ausgehend vom Belcanto-Repertoire erweiterte sie ihr Repertoire in den letzten Jahren um großen Partien Giacomo Puccinis und Giuseppe Verdis, so u. a. Mimì / LA BOHEME, Violetta / LA TRAVIATA und Leonora / DER TROUBADOUR. Es war die Partie der Violetta 2007 an der Scottish Opera in einer Produktion David McVicars, die Carmen Giannattasio quasi über Nacht berühmt machte, als nämlich Rupert Christiansen im "Daily Telegraph" über ihre Interpretation schrieb: "… a deeply intelligent and profoundly affecting interpretation in the Cotrubas and Scotto mould."

Bei "Opera Rara" liegen zahlreiche Einspielungen von Werken des Belcanto mit ihr in Hauptpartien vor. Darunter seien genannt Rossinis LA DONNA DEL LAGO, Donizettis PARISINA und besonders Rossinis ERMIONE (die 2011 mit dem Grammophone Opera Award ausgezeichnet wurde), außerdem Bellinis IL PIRATA und Donizettis CATERINA CORNARO.

Zu den Engagements der jüngsten Zeit zählen u. a. LA BOHEME am Royal Opera House Covent Garden in London, ROBERT LE DIABLE in Salerno, DON GIOVANNI in Verona, DER TROUBADOUR an der Metropolitan Opera New York und in Wien, LA CLEMENZA DI TITO beim Festival von Aix-en-Provence, LA TRAVIATA in Neapel und Hongkong, DON CARLO in Berlin, FALSTAFF am Teatro alla Scala und Los Angeles, OTELLO in Buenos Aires und Hamburg.

Carmen Giannattasio sang unter Leitung von Diego Matheuz an der Seite von Lawrence Brownlee am Teatro La Fenice das Neujahrskonzert 2014, das von "Rai Uno" übertragen und via Broadcast weltweit ins Internet gesendet wurde.

Ihre zukünftigen Engagements werden sie u. a. in LA BOHEME nach Berlin führen, in SIMON BOCCANEGRA ans Teatro alla Scala nach Mailand, in MARIA STUARDA nach London und Paris, in IL VIAGGIO A REIMS nach Amsterdam, in LA TRAVIATA nach Berlin und New York, in OTELLO nach Barcelona.
Schedule
Videos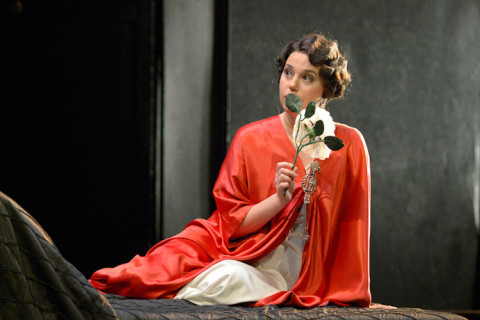 Video –
Giuseppe Verdi: La Traviata