Gidon Saks
© Agentur
Gidon Saks wurde in Israel geboren und ist in Südafrika aufgewachsen. Er studierte am Royal Northern College of Music sowie an der University of Toronto. Er war Mitglied des Ensembles der Canadian Opera und erhielt später ein Stipendium für das Opernstudio Zürich.

In 2013/2014 gibt er an der Deutschen Oper Berlin sein Debüt in der Partie des John Claggart / BILLY BUDD. Ebendiese Partie interpretierte er auch mit dem London Symphony Orchestra unter Daniel Harding, die von EMI/Virgin Classics aufgenommen wurde. Diese Aufnahme wurde mit dem Grammy Award 2010 für die beste Opernaufnahme ausgezeichnet. Zuvor sang er diese Rolle überdies in Covent Garden, an der Opéra national de Paris, der Scottish Opera, sowie in Genf und Antwerpen.

Zu seinem Repertoire zählen so unterschiedliche Partien wie Nick Shadow / THE RAKE'S PROGRESS (Staatsoper Berlin, Paris), Enrico / ANNA BOLENA (Köln), Kreon / OEDIPUS REX (Paris, London, Brüssel, Köln), Kaspar / DER FREISCHÜTZ (Paris, Berlin, BBC Proms), Fasolt / DAS RHEINGOLD (Venedig), Hagen / GÖTTERDÄMMERUNG (La Coruna, Venedig), König Heinrich / LOHENGRIN (mit dem City of Birmingham Symphony Orchestra), die vier Bösewichter / LES CONTES D'HOFFMANN (Covent Garden), Scarpia / TOSCA (Bregenz), Blaubart (Concertgebouw, Nantes, Angers), Don Pizarro (Canadian Opera Company, Staatsoper Berlin), die Titelpartie in Boitos MEFISTOFELE (Amsterdam), Seneca / L'INCORONAZIONE DI POPPEA (Brüssel), Don Giovanni (Reisopera Enschede), Mephisto in Spohrs FAUST (Wien, Köln), König Philipp / DON CARLO (Genf, Palermo) sowie an der Vlaamse Oper Sparafucile / RIGOLETTO, Ashby / LA FANCIULLA DEL WEST und Cadmus/Somnus / SEMELE. In Großbritannien sang Gidon Saks in THE PILGRIM'S PROGRESS unter Richard Hickox am Royal Opera House, die Titelrolle in BORIS GODUNOW, Kaspar, Nick Shadow, Hagen an der English National Opera, Leporello, Achillas und Sarastro an der Scottish Opera, Don Pizarro, Conte Almaviva, Daland und Kochubei / MAZEPPA an der Waliser National Opera.

Darüber hinaus kreierte Gidon Saks Rollen wie George Moscone in Stewart Wallaces HARVEY MILK unter der Regie von Christopher Alden (Houston Grand Opera, New York City Opera und San Francisco Opera), die auch bei Teldec unter Leitung von Donald Runnicles eingespielt wurde, Hamilkar in Fénélons SALAMMBÔ (Opéra Bastille) und den Gesandten in Goehrs ARIANNA (Royal Opera House).

Zu seinen Aufnahmen gehören CURLEW RIVER (Philips) mit Sir Neville Marriner, Weills SILBERSEE (BMG), Händels HERCULES (Deutsche Grammophon) unter Minkowski wie auch SAUL unter René Jacobs, welche mit einem "Gramophone Award" ausgezeichnet wurde. Gidon Saks ist auch als Regisseur und Ausstatter tätig und ist Gastprofessor für Gesang am Konservatorium im belgischen Gent. Er gibt regelmäßig Meisterkurse in der ganzen Welt.
Schedule
Videos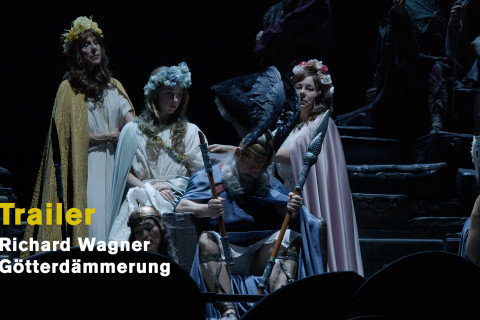 Video – 02:59 min.
Richard Wagner: Götterdämmerung