Ladislav Elgr
© Agentur
Ladislav Elgr studierte an der Prager Akademie für Darstellende Künste und sang währenddessen bereits an verschiedenen Stadttheatern der Tschechischen Republik. Beim Smetanafestival in Litomysl gab er sein erfolgreiches Debut als Jenik / DIE VERKAUFTE BRAUT. Nach einer Saison (2005/2006) im Opernstudio des Staatstheaters Nürnberg war er von 2006 bis 2008 Mitglied des Internationalen Opernstudios der Staatsoper Hamburg. 2008/2009 wechselte Ladislav Elgr für zwei Spielzeiten ins Ensemble der Volksoper Wien, wo er Partien wie Tamino / DIE ZAUBERFLÖTE, Alfred / DIE FLEDERMAUS, Lysander / DER SOMMERNACHTSTRAUM, 1. Fremde / DER VETTER AUS DINGSDA, Lorenzo / FRA DIAVOLO und Nando / TIEFLAND sang.
Zu Beginn der Spielzeit 2012/13 gab Ladislav Elgr sein erfolgreiches Rollendebüt als Prinz / RUSALKA in Glyndebourne (on Tour), im Frühjahr 2013 gab er sein Rollendebüt als Albert Gregor / VEC MAKROPULOS am La Fenice, 2013/14 folgten seine Debüts an der Bastille in Paris als Janek / VEC MAKROPULOS, an der Deutschen Oper Berlin als Steva / JENUFA sowie in Antwerpen als Sergei in der Neuproduktion LADY MACBETH VON MZENSK. 2014 kehrte er für die Wiederaufnahmen DAPHNE (Leukippos) und SVANDA DUDAK (Babinsky) an die Semperoper Dresden zurück, wo er 2010 und 2012 bereits mit großem Erfolg die jeweiligen Premierenserien gesungen hat.

Weitere Gastengagements führten den Künstler 2004 zum Wexford Festival in Irland als Licinio in Mercadantes LA VESTALE, 2006 gab er sein Debut am Teatro La Fenice als Priester und Geharnischter / DIE ZAUBERFLÖTE, dieselben Partien interpretierte er 2007 in Pier-Luigi Pizzis Inszenierung beim Macerata Festival. 2008 sang er beim Janacek-Festival in Brno in einer Gastproduktion des Theaters an der Wien Kudrjás / KATIA KABANOVA. Bereits mehrmals gastierte er als Froh / DAS RHEINGOLD bei den Wagner-Tagen in Budapest (unter Adam Fischer), dieselbe Partie sang er im Juni 2011 am La Fenice in Venedig. Im Rahmen des Osterklang Festivals Wien 2009 sang Ladislav Elgr Judas in Birtwistles THE LAST SUPPER, im Frühjahr 2010 folgte Edwin / DIE CSARDASFÜRSTIN an der Oper Graz in der Inszenierung von Peter Konwitschny.

Im März 2010 gab Ladislav Elgr sein erfolgreiches Debüt mit den Wiener Philharmonikern unter der Leitung von Pierre Boulez im Wiener Musikverein mit Janaceks "Glagolitische Messe".

Folgende Einspielungen mit Ladislav Elgr liegen vor: DAS RHEINGOLD unter Simone Young, DIE AUSFLÜGE DES HERRN BROUCEK unter Sir Charles Mackerras und LA VESTALE unter Paolo Arrivabeni.
Schedule
Videos
Video – 03:43 min.
Unterwegs zu einer neuen Oper: Edward II. (3)
Video – 03:36 min.
Die Sache Makropulos – The Making-Of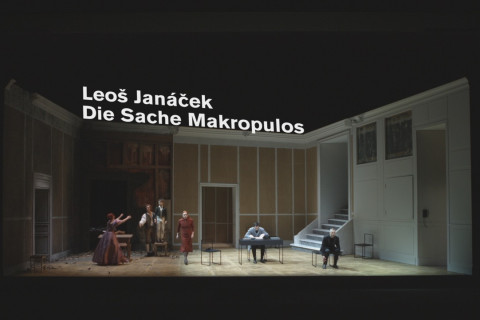 Video – 02:06 min.
Leos Janácek: Die Sache Makropulos