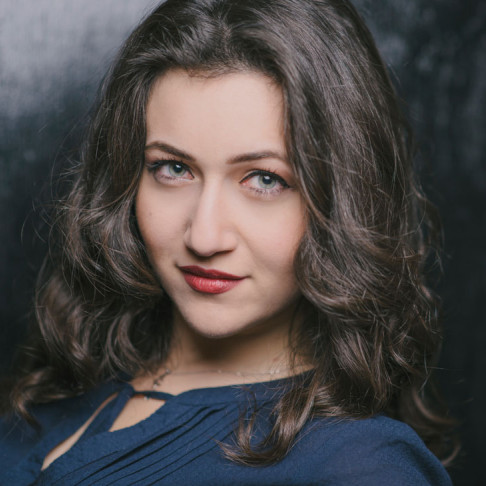 Mané Galoyan
© Simon Pauly
In der Saison 2022/23 wird Mané Galoyan die Titelrolle in LUISA MILLER an der Oper Köln, Avis in THE WRECKERS an der Houston Grand Opera, Donna Anna in DON GIOVANNI an der Atlanta Opera, Violetta in LA TRAVIATA an der Deutschen Oper Berlin und der Seattle Opera sowie Pamina in DIE ZAUBERFLÖTE an der Deutschen Oper Berlin singen. Außerdem wird sie Rachmaninows "Die Glocken" mit Gustavo Dudamel und dem Los Angeles Philharmonic, Bruckners "Te Deum" mit dem Niederländischen Rundfunkorchester, Tanejews Kantate mit dem American Symphony Orchestra, die später als Aufnahme erscheinen wird, und "Die Glocken" mit dem Bard Festival aufführen sowie ein Konzert mit dem Puerto Rico Symphony Orchestra für CulturArte de Puerto Rico geben.

Als Ensemblemitglied der Deutschen Oper Berlin in den Jahren 2021/22 sang Mané Galoyan unter anderem Pamina in DIE ZAUBERFLÖTE und Violetta in LA TRAVIATA. Als Gast gab sie ihr Debüt an der Niederländischen Nationaloper als Violetta und sang die Titelrolle in LUISA MILLER beim Glyndebourne Festival. Im Jahr 2021 gab sie ihr Debüt an der Pariser Oper als Adina in L'ELISIR D'AMORE. Außerdem sang sie Walter in LA WALLY mit dem Münchner Rundfunkorchester. In der Spielzeit 2020/21 debütierte sie am Opernhaus Zürich als Adina in L'ELISIR D'AMORE und sang an der Deutschen Oper Berlin Garsenda in FRANCESCA DA RIMINI.

In den vergangenen Spielzeiten gab sie ihr Debüt an der Metropolitan Opera als Prilepa / Chloë in PIQUE DAME unter der Leitung von Vasily Petrenko. Als ehemaliges Studiomitglied der Houston Grand Opera hat Galoyan Violetta, Gilda in RIGOLETTO und Adina gesungen. Mit dem Glyndebourne Festival war sie als Violetta auf Tournee und debütierte beim Hawaii Opera Theatre als Gräfin in LE NOZZE DI FIGARO.

Mané Galoyans Konzertrepertoire reicht von Pergolesis "Stabat Mater" über Schuberts "Messe in G-Dur" und "Messe in C-Dur", Vivaldis Gloria und Haydns Nelson-Messe bis hin zu Faurés "Requiem", aufgeführt mit dem armenischen Nationalorchester.

Mané Galoyan ist Preisträgerin verschiedenster Wettbewerbe, darunter der 27th Eleanor McCollum Competition, der XV International Tchaikovsky Competition, der 6th International Vocal Competition China in Ningbo, der 2017 Dallas Opera Guild Vocal Competition, der 2014 Hans Gabor Belvedere Competition und der Bibigul Tulegenova International Singing Competition in Kasachstan. Ihre Ausbildung absolvierte sie am Houston Grand Opera Studio und am Staatliche Komitas-Konservatorium Jerewan, wo sie im Jahr 2013 mit dem President of the Republic of Armenia Youth Prize geehrt wurde. Auch war sie Mitglied der HGO Young Artist Vocal Academy 2013.
Schedule
In performances like
Videos
Video – 20:12 min.
Die Stipendiat*innen des Förderkreises 2020/21