Michael Volle
© Carsten Sander
Michael Volle ist einer der gefragtesten Sänger unserer Zeit. Der Bariton gastiert an den renommiertesten Opernhäusern der Welt wie der Metropolitan Opera New York, den Staatsopern in München und Wien, dem Teatro alla Scala Milano, dem Royal Opera House London, der Opéra National de Paris, der Deutschen Oper Berlin und der Staatsoper Berlin. Mit letzterer verbindet ihn eine enge Zusammenarbeit, so stand er dort kürzlich in zwei seiner besten Partien auf der Bühne: den Titelpartien in Wagners DER FLIEGENDE HOLLÄNDER und Verdis FALSTAFF, beide unter dem Dirigat von Daniel Barenboim. Der gefeierte Wagner-Sänger ist häufiger Gast bei den angesehenen Festivals in Salzburg und Bayreuth sowie dem Festspielhaus Baden-Baden.
Michael Volle startet die Saison 2019/20 mit fünf Produktionen an der Staatsoper Unter den Linden Berlin unter dem Dirigat von Daniel Barenboim: als Wotan / DAS RHEINGOLD und DIE WALKÜRE und Wanderer / SIEGFRIED im Ring – Zyklus, mit seinem Rollendebüt als Herr Fluth in Otto Nicolais DIE LUSTIGEN WEIBER VON WINDSOR sowie als Hohepriester des Dragon in Camille Saint-Säens SAMSON UND DALILA. Er kehrt zurück an die Wiener Staatsoper als Jochanaan / SALOME und Orest / ELEKTRA von Richard Strauss und singt die Partie des Barak / DIE FRAU OHNE SCHATTEN in konzertanten Aufführungen in Paris, Dortmund und Rotterdam mit dem Rotterdams Philharmonisch Orkest unter dem Dirigat von Yannick Nézet-Séguin. Der Bariton ist als Don Giovanni in einer Gala – Vorstellung des Badischen Staatstheaters Karlsruhe zu hören, bevor er als Jochanaan / SALOME an das Teatro alla Scala Milano und als Scarpia / TOSCA an die Metropolitan Opera New York zurückkehrt. An der Deutschen Oper Berlin und der Bayrischen Staatsoper tritt der Bariton in der Titelpartie von Wagners DER FLIEGENDE HOLLÄNDER auf, bevor er die Opernsaison als Hans Sachs / DIE MEISTERSINGER VON NÜRNBERG be den Bayreuther Festspielen beendet. Auf der Konzertbühne singt Michael Volle Bachs MAGNIFICAT mit den Wiener Symphonikern unter Philippe Jordan im Wiener Musikverein und er gibt Liederabende in Kassel, Essen und bei der Schubertiade Hohenems. Er singt Neujahrskonzerte im Wiener Konzerthaus und gibt zwei Konzerte mit der Akademie für Alte Musik Berlin in München und Moskau. Mit den Hamburger Symphonikern kann Michael Volle als Méphistophélès / LA DAMNATION DE FAUST von Hector Berlioz gehört werden und er singt Mahlers DAS LIED VON DER ERDE.

Michael Volle ist ein führender Interpret des deutschen Repertoires. Dieses beinhaltet Wagner-Partien wie die Titelpartie in DER FLIEGENDE HOLLÄNDER, Wotan/Wanderer in DER RING DES NIBELUNGEN, Hans Sachs / DIE MEISTERSINGER VON NÜRNBERG und Amfortas / PARSIFAL und Partien in Werken von Richard Strauss wie Barak / DIE FRAU OHNE SCHATTEN, Jochanaan / SALOME, Orest / ELEKTRA und Mandryka / ARABELLA sowie die Titelpartie des Wozzeck und Dr. Schön und Jack the ripper / LULU von Alban Berg. Als Interpret des italienischen Repertoires war Michael Volle als Scarpia / TOSCA an der Metropolitan Opera New York mit Anna Netrebko in der Titelpartie, an der Staatsoper Wien und an der Deutschen Oper Berlin zu erleben. Ebenso gehört Jack Rance / LA FANCIULLA DEL WEST zu seinem Repertoire.
Neben seiner Opernkarriere singt der Bariton Konzerte in renommierten Konzerthallen und mit renommierten Orchestern weltweit. Er arbeitet regelmäßig mit Dirigenten wie Daniel Barenboim, Zubin Mehta, Christian Thielemann, Antonio Pappano, Mariss Jansons, Franz Welser-Möst, Valery Gergiev, Thomas Hengelbrock, Simon Rattle und Frieder Bernius. Michael Volle ist ebenso ein engagierter Lied – Sänger und gibt – zusammen mit dem Pianisten Helmut Deutsch - Liederabende bei Festivals wie dem Heidelberger Frühling und der Schubertiade Schwarzenberg. Michael Volle verbindet auch eine enge Zusammenarbeit mit der Akademie für Alte Musik Berlin, in deren Rahmen eine CD mit Solo– und Dialog-Kantaten von J. S. Bach aufgenommen wurde.
Zahlreiche weitere CD- und DVD-Aufnahmen, weltweite Live-Übertragungen in Kinos sowie der Film "The Hunter's Bride", basierend auf DER FREISCHÜTZ mit Michael Volle als teuflischem Kaspar, dokumentieren das Schaffen des Künstlers. Zahlreiche Solo-CDs wie "Wagner Arien" (Orfeo), ein Lieder-Album mit Helmut Deutsch (Oehms Classics), "Michael Volle singt Brahms" (Brillant Classics) sowie "Michael Volle: ein Portrait", herausgegeben von BR Klassik, krönen seine Diskographie. Michael Volle wurde mit dem deutschen Theaterpreis "Der Faust" ausgezeichnet und wurde von der Zeitschrift "Opernwelt" zum "Sänger des Jahres" ernannt (2008 und 2014).
Schedule
Videos
Video – 04:34 min.
Salome – The Making-Of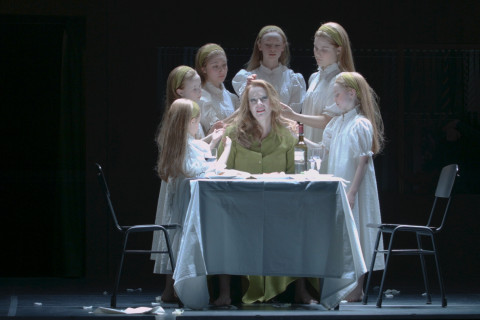 Video – 02:06 min.
Richard Strauss: Salome