Jonathan Tetelman
© Stephen Howard Dillon
Jonathan Tetelman gilt als einer der aufregendsten Nachwuchsstars der Gegenwart und wird für seine "stimmlich großartige, strahlende und unverwechselbare Tenorstimme" (Opera Aktuell) gelobt. Der in Chile geborene und in New Jersey aufgewachsene Tenor steht auf den Bühnen renommierter Häuser mit weltbekannten Orchestern und zeigt sein Können in "dunkel gefärbtem Tenortimbre" (SZ) und mit "balsamischem Schwung" (Der Tagesspiegel).

Auf der Opernbühne beginnt Jonathan Tetelman die Spielzeit 2023/24 an der Deutschen Oper Berlin mit gleich zwei Puccini Opern: in Pınar Karabuluts Neuinszenierung von IL TRITTICO als Luigi (IL TABARRO) und in MADAMA BUTTERFLY als Pinkerton. Es folgen die Partien des Werther in Robert Carsens Neuinszenierung von Massenets WERTHER am Festspielhaus Baden-Baden sowie des Rodolfo in LA BOHÈME am Theater Dortmund. Der Tenor gibt sein mit Spannung erwartetes Haus- und Rollendebüt an der New York Metropolitan Opera in Puccinis LA RONDINE (Ruggero) und ist am Teatro Massimo in Palermo, an der Metropolitan Opera in New York und beim Festival Aix-en-Provence in der Rolle des Pinkerton in Puccinis MADAMA BUTTERFLY zu erleben. Auf der Konzertbühne eröffnet er zusammen mit der Sopranistin Angela Gheorghiu und weiteren Künstlern wie Pianist Krzysztof Jablonski, Violinst Tedi Papavrami und dem aserbaidschanischen Tar-Spieler Sahib Pashazade das Shenzhen Belt Road Music Festival in der Shenzhen Concert Hall in China. Zurück in Europa gastiert er im Berliner Konzerthaus zusammen mit dem Rundfunk-Sinfonieorchester Berlin, gibt zusammen mit Daniel Heide einen Liederabend im Schweizerischen Gstaad und singt mit dem Gulbenkian-Orchester in Lissabon Galakonzerte. Weitere Konzerte führen ihn für ein Neujahrskonzert zum Borusan-Festival in Istanbul, ins Festspielhaus nach Baden-Baden und ins Rudolfinum in Prag.

In der vergangenen Spielzeit gab Jonathan Tetelman sein mit Spannung erwartetes Operndebüt an der San Francisco Opera als Alfredo in Verdis LA TRAVIATA und gab sein Debüt an der Houston Grand Opera in einer seiner Paraderollen, als Cavaradossi in TOSCA. In Europa war der Tenor als Rodolfo an der Semperoper Dresden, als Cavaradossi und als Paolo il Bello in Zandonais FRANCESCA DA RIMINI an der Deutschen Oper Berlin zu hören, sang Vorstellungen als Loris Ipanow in FEDORA an der Ópera de Las Palmas auf Gran Canaria und war mit der Rolle des Macduff in Verdis MACBETH bei den Salzburger Festspielen zu erleben. Auf der Konzertbühne trat der Tenor mit dem Houston Symphony Orchestra als Solist in Verdis "Messa da requiem" auf, sang gemeinsam mit Sylvia D'Eramo beim Tivoli Festival in Kopenhagen und konzertierte zusammen mit der Sopranistin Angela Gheorghiu u. a. in Brüssel und Paris.

Die Spielzeiten zuvor brachten den Tenor für sein Rollendebüt als Stiffelio in Verdis gleichnamigem Werk an die Opéra national du Rhin. Außerdem sang er an der Seite von Plácido Domingo die Rolle des Jacopo Foscari in I DUE FOSCARI am Teatro del Maggio Musicale Fiorentino, Loris Ipanow in FEDORA an der Oper Frankfurt, gab sein Hausdebüt am Theater an der Wien in einer Neuproduktion von TOSCA und spielte die Hauptrolle des Rodolfo in Mario Martones Opernverfilmung von LA BOHÈME, welche in Koproduktion mit Radiotelevisione Italiana (Rai) und Opera di Roma entstand und 2022 veröffentlicht wurde. Auf der Konzertbühne präsentierte Jonathan Tetelman an der Seite von Karel Mark Chichon und Elīna Garanča eine Reihe von Konzerten in Österreich, Spanien und Lettland. Er trat bei der 169. Geburtstagsgala des Tivioli-Festivals in Kopenhagen auf, sang ein Galakonzert zu Ehren von Birgit Nilsson in Schweden und ging für konzertante Vorstellungen von Puccinis LA BOHÈME zum Grand Teton Music Festival nach Wyoming.

Nachdem er sein Studium an der New School of Music, Mannes College, und an der Manhattan School of Music abgeschlossen hatte, gab Jonathan Tetelman innerhalb kürzester Zeit eine Reihe von erfolgreichen Haus- und Rollendebüts: Er debütierte am Royal Opera House Covent Garden sowohl als Alfredo in LA TRAVIATA als auch als Rodolfo in LA BOHÈME (Januar/Februar 2020), sang die Rolle des Canio in PAGLIACCI (August 2021) und Cavaradossi in TOSCA am Teatro Regio Torino, gab sein Rollendebüt als B. F. Pinkerton in MADAMA BUTTERFLY an der Opéra national de Montpellier (2019/20), sang TOSCA und MADAMA BUTTERFLY an der Semperoper Dresden (November 2019, September 2020) und TOSCA am Gran Teatre del Liceu in Barcelona (Juni 2019). An der Opéra de Lille trat er als Cavaradossi in TOSCA und als Don José an der Seite von Elīna Garanča in einer Konzerttournee von CARMEN durch Osteuropa auf, welche vom Bartók-Radio übertragen wurde. Der Tenor war außerdem in WERTHER am Gran Teatro Nacional de Lima und an der Opera del Teatro Solis in Montevideo (Uruguay), in LA BOHÈME (Rodolfo) an der Komischen Oper Berlin, an der English National Opera in London und dem Fujian Grand Theatre in China sowie in RIGOLETTO (Duca) beim Berkshire Opera Festival zu hören.

Auf der Konzertbühne sang Jonathan Tetelman mit dem San Francisco Symphony Orchestra unter der musikalischen Leitung von Michael Tilson Thomas (September 2019) und mit den Stuttgarter Philharmonikern unter Leitung von Dan Ettinger Beethovens 9. Sinfonie, gab Galakonzerte mit der Sopranistin Kristine Opolais in Moskau sowie mit den Würth Philharmonikern in Künzelsau, mit den Kopenhagener Philharmonikern und sang Verdis "Requiem" mit dem Boston Symphony Orchestra und Andris Nelsons beim Tanglewood Festival 2019. Weitere Orchester, mit denen er zusammengearbeitet hat, sind das Milan Festival Orchestra, das Greenwich Village Orchestra und das Orchestra Now, mit welchem er Elgars "Dream of Gerontius" aufführte. Er sang sowohl Dvořáks "Requiem" sowie "Stabat Mater" mit der St. George's Choral Society und gab zusammen mit der Sopranistin Nadine Sierra ein Konzert beim Festival Napa Valley 2018.

Jonathan Tetelman ist Exklusivkünstler der Deutschen Grammophon und nahm für sein Debütalbum "Arias" (August 2022) gemeinsam mit dem Orquesta Filarmónica de Gran Canaria und dessen Chefdirigenten Karel Mark Chichon Verdi- und Versimo-Arien, eine Auswahl aus dem lyrischen französischen Repertoire und Duette mit der litauischen Sopranistin Vida Miknevičiûtė auf. Sein zweites Album "The Great Puccini" erscheint am 29. September 2023 und enthält berühmte Arien aus neun Puccini Opern, darunter "Nessun dorma", "Che gelida manina" und "E lucevan le stelle". Für sein 2022 veröffentlichtes Album "Arias" erhält Jonathan Tetelman den Opus-Klassik in der Kategorie Nachwuchskünstler des Jahres 2023.
Schedule
In performances like
Videos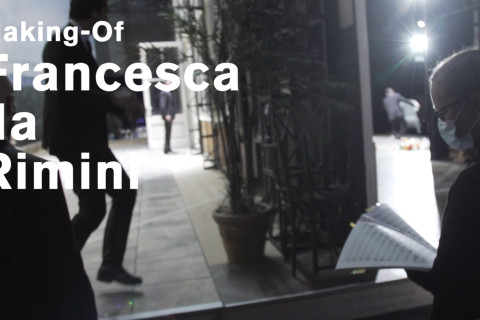 Video – 05:39 min.
Francesca da Rimini – The Making-Of
Video – 02:28 min.
Riccardo Zandonai: Francesca da Rimini
Video – 11:01 min.
Ein Pausenbesuch bei Francesca da Rimini