Francesca da Rimini as chargeable video on demand via takt1.com
Watch here via takt1.com
+ on 14 March 2021, 7 p.m., as livestream on takt1.com
+ subsequently until 17 March 2021 as video on demand on takt1.com
+ afterwards in the paid streaming offer on takt1.com 
+ on 27 March, from 7.05 p.m., as radio version on Deutschlandfunk Kultur
Tragedia in four acts and five pictures
Libretto by Tito Ricordi after Gabriele D'Annunzio's tragedy of the same name.
First performance on 19 February 1914 at the Teatro Regio in Turin
Premiere at the Deutsche Oper Berlin on 14 March 2021
In Italian with German and Italian surtitles
approx. 2 hours 45 minutes / One interval
In 2018 Christof Loy collaborated with Marc Albrecht (conducting) and Sara Jakubiak (in the title role) to stage Erich Wolfgang Korngold's THE MIRACLE OF HELIANE on the stage of the Deutsche Oper Berlin. The production picked up two awards: "Rediscovery of the Year, 2018" as voted by Opernwelt magazine, and an OPUS KLASSIK prize as "Best Live Recording of 20th/21st-Century Opera" awarded for the DVD released under the NAXOS label.
Christof Loy and Sara Jakubiak are now teaming up again for Riccardo Zandonai's FRANCESCA DA RIMINI, another work revolving around a psychological study of a strong, non-conformist woman rejecting the strictures of a moralising society.
Riccardo Zandonai (*1883) studied under Mascagni and in 1910 was a rising star in the firmament of Italian opera. Tito Ricordi, his publisher, was mapping out a career for him that mirrored the one his father Giulio Ricordi planned for the young Puccini. To achieve his goal Ricordi spared no expense or effort, paying an astronomical price for the rights to a scandalous contemporary play as the basis for Zandonai's new opera: Gabriele D'Annunzio's five-act drama "Francesca da Rimini", which premiered in Rome in 1901 with Eleonora Duse in the title role. Gabriele D'Annunzio in turn had based his "Francesca da Rimini" on a fragment from Dante's "Divine Comedy", a big theme in 19th-century works of the Romantic period. The storyline featured brutal passions, blood-drenched, civil-war scenes, an adulterous couple caught in the act and their self-destructive love affair culminating in double murder motivated by jealousy. Audiences and critics may have been divided, but D'Annunzio's fin-de-siècle-esque "Poem of blood and lust" created waves in the artistic community of the day.
The 31-year-old Riccardo Zandonai saw the play as his springboard to a full-scale opera florid in colour and with a musical language that fused a raft of different styles and periods. And so it was that Zandonai ploughed his own furrow in European musical theatre, swerving between echoes of Renaissance madrigals, the hard edge of verismo, Wagner's TRISTAN AND ISOLDE as his guiding exemplar, and the French Impressionism of a Debussy.
Watch a short teaser with first scenic impressions of Riccardo Zandonai's Francesca da Rimini here --- To the video
The opera centres on three brothers, all of whom fall for the same woman. Francesca, a member of the Polenta family of Ravenna, is set to be married into the Malatesta dynasty in Rimini. However, her groom-to-be, Giovanni, is old and unattractive and can't bring himself to court the damsel in person, so he sends his handsome brother Paolo as a front for his advances. Francesca unwittingly falls in love with Paolo and signs the nuptial agreement. Living in matrimony with her unwanted husband in the Malatesta household, she plunges into a fiery affair with Paolo, a helter-skelter of adoration and strife in equal measure. Francesca is presented at once as victim and as perpetrator, as lover with a death wish and powerful seductress, who also succumbs to the machinations of the third, sadistic brother in the family. The full potential of the opera's female character consists in her complex and contradictory personality, which swings between devotion and destructive forces. Francesca is on a constant quest for inner peace.
Strict hygiene regulations and daily Covid tests for all concerned were the order of the day as the production took shape at the Deutsche Oper Berlin. The tight regime meant that people could interact slightly more closely and the on-stage artists could dispense with mask-wearing. The orchestra of the Deutsche Oper Berlin is at full strength here, with the musicians subject to the same hygiene regimen and daily testing. The chorus is not physically present; its singing is transmitted live from the rehearsals room to the stage.
Conductor: Carlo Rizzi; Stage director: Christof Loy; set design: Johannes Leiacker; costumes: Klaus Bruns; lighting: Olaf Winter; chorus master: Jeremy Bines; dramaturge: Dorothea Hartmann; With Sara Jakubiak, Alexandra Hutton, Samuel Dale Johnson, Ivan Inverardi, Jonathan Tetelman, Charles Workman, Meechot Marrero, Mané Galoyan, Arianna Manganello, Karis Tucker, Amira Elmadfa, Andrew Dickinson, Dean Murphy, Patrick Cook, Thomas Lehman as well as Jan Gerrit Brüggemann, Farouk El-Khalili, Hanno Jusek, Marcus Mundus, Andrea Spartà, Koray Tuna, Benjamin Werth, Nicolas Franciscus, Franz Gnauck, Kay Bretschneider, Paul Krügener, Lukas Lehner, Maximilian Reisinger, Pablo Nina Toculescu; chorus and orchestra of the Deutsche Oper Berlin
Uncompromising to the point of death
Francesca and Paolo, in a painting by Gaetano Previati
Director Christof Loy is on a quest for system-crashing women – and exploring the biblical issue of guilt. He finds both in Francesca, the title character in Zandonai's FRANCESCA DA RIMINI ... Read the essay from our "What Moves Me" section here.
The plot, synopsised for you by director Christof Loy
Christof Loy © Monika Rittershaus
In northern Italy, civil war has raged for decades between the Guelphs and the Ghibellines. In the incessant fighting, many a noble family has lost a huge fortune – among them the Polenta dynasty of Ravenna. The dynasty's demise can only be staved off by an alliance with a strong and financially secure aristocratic family.
Plans have therefore been laid to marry the beautiful but proud daughter Francesca to Giovanni, known as Gianciotto, a son of the influential Malatesta family of Rimini. Ostasio, Francesca's ambitious brother, has already made all the necessary arrangements with his lawyer.
A stumbling block is Francesca's headstrong nature. She would never accept a husband such as Gianciotto, who is deformed. Therefore his younger brother, Paolo the Handsome, will be sent as a marriage envoy. Francesca is meant to think the elegant young man is her bridegroom.
Act one
In Ravenna. Early summer.
The day has come when Francesca is to meet her future husband. She takes leave of her sickly younger sister Samaritana. Both are full of apprehension and Francesca is extremely tense. Their companions finally announce the arrival of the bridegroom. They, too, believe that handsome Paolo is the man she will marry. When Paolo appears before her, she is overwhelmed and when she is given the marriage contract to sign, she only has eyes for her supposed husband-to-be.


Act two
In Rimini. Some months later.
Francesca is quick to discover she has been the victim of deception and is now the wife of the "lame-legged" Gianciotto. She has sworn to take revenge on the Malatesta brothers.
On a day of particularly fierce fighting in the city, she fearlessly goes to the defensive tower of the Malatestas. There she meets Paolo for the first time since the fateful wedding day, and demands expiation for the wrong he has done her.
But Paolo asserts he knew nothing about the plan to trick her. He confesses that he fell in love with her at their first encounter and has not been able to forget her. She cynically demands he pay with his life in the approaching battle. But she realizes that she can't conquer her feelings for Paolo any more. She sees the battle as a trial by ordeal: should Paolo survive unscathed, he would be freed of guilt and granted forgiveness through love.
Paolo kills the enemy leader and is himself struck down by what he too imagines to be the judgement of God. He can no longer master his desire for Francesca.
However he is well aware that Francesca is his older brother's wife, and their actions cannot be undone. When an initial victory in battle is celebrated, she offers her wine glass to her husband, then to Paolo, and then to the third brother, Malatestino, who has lost an eye in the fighting.
From this moment on, if not earlier, all three brothers are under Francesca's spell.
Act three
Rimini, some months later, in March
Directly after his triumph in battle, Paolo left to take up a political post in Florence, so as not to be consumed by jealousy. Now he has returned to Rimini and Francesca can barely wait to see him again. Her confidante Smaragdi arranges a meeting between them. Francesca and Paolo become aware that their love is fated, and give up resisting it.


Act four, part 1
Rimini, some months later, a summer evening
The one-eyed Malatestino suspects that Francesca is intimately involved with Paolo. By playing with him, Francesca tries to exert control over him, too. But she overplays her hand, and Malatestino informs his brother Gianciotto that he is being cheated on. Malatestino tells Gianciotto that he can surprise Francesca in her bedroom with Paolo that night. Gianciotto, who until then believed that Francesca loved him and that his favourite brother Paolo would never do anything to harm him, vows revenge. 
Act four, part 2
Some hours later, at night.
Francesca's companions are worried about her, feeling that she is increasingly distracted and distant. Francesca nonetheless insists on being left alone. With her youngest friend Biancofiore, who reminds her of her recently deceased sister Samaritana, she confides that she has presentiments of death. In defiance of reason, she lets Paolo into her room late at night. Destiny is now fulfilled as Gianciotto, in a jealous rage, stabs his wife and his brother Paolo to death.
I'm dying to see Francesca's colours. I'm guessing she'll be shimmering in the colours of water, maybe a deep blue. ... Sara Jakubiak about the role of Francesca.
Sara Jakubiak at her soul place: the Spreepromenade © Jonas Holthaus
"Francesca is being married off to Gianciotto, but her family figures she might try and get out of it because he's so ugly. So instead of Gianciotto they send his hot brother, Paolo, with the marriage contract. Francesca and Paolo fall in love, but then she realises it was a trick and she's actually meant to wed the brother. Francesca stays true to her newfound love, but there's no happy ending: the third brother, Malatestino, betrays the lovers and they perish at the end. I have Francesca in my mind's eye when I'm sauntering along the Spree. She's got this expression fit to pierce the depths of any ocean. I once had the opportunity to dive in a submarine to bottom of the Pacific. It was out of this world. The water was heavy and powerful and the surface of the sea floor stretched away, so beautiful. I see Francesca as having the same kind of aura as the sea. And funnily enough this opera has a lot of references to water: one of her first lines is »My soul flows like water«. Later she sings: »Peace in this sea / - so savage yesterday / and like a pearl today - / give me peace!« For me, peace is the at the core of Francesca's message." [...] --- Read more in our blog Sara Jakubiak: A place of serenity for my soul - Die Spreepromenade
Tenor Jonathan Tetelman sings the part of Paolo, the handsome brother in Zandonai's FRANCESCA DA RIMINI – a role that fits his character and his voice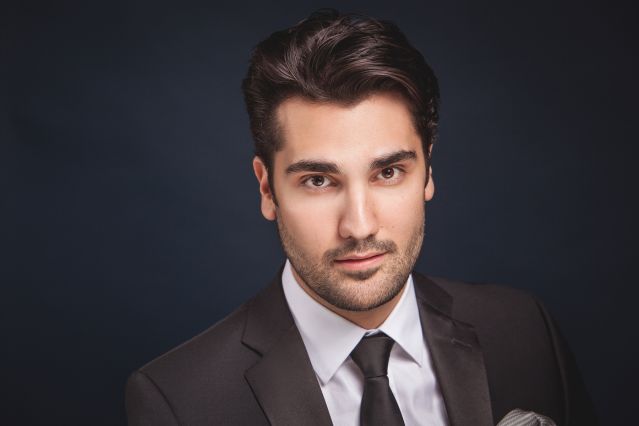 Jonathan Tetelman © Stephen Dillon
I'm often getting cast in heroic roles, which is probably down to my age and my voice. Who can say that these bonny young men won't be getting a little boring in five years? But as things stand, I'm ok with it. I like the roles for their musical aspect, above all, because I can really let loose with my tenor voice. Paolo in FRANCESCA DA RIMINI is forthright and passionate, and I can relate to that. He doesn't shrink from taking what he wants, even if it might be the wrong thing to do. He follows his visions and makes them come true; that's something I'm constantly having to do in opera. He surrenders to his love for Francesca, going behind his brother's back in the process. Did he take a wrong turn? I don't know. You can analyse the morals of it – or you can congratulate him for following his heart. —