FÖRDERKREIS DER DEUTSCHEN OPER BERLIN
#kulturhungrig
SOLIDARITY WITH UKRAINE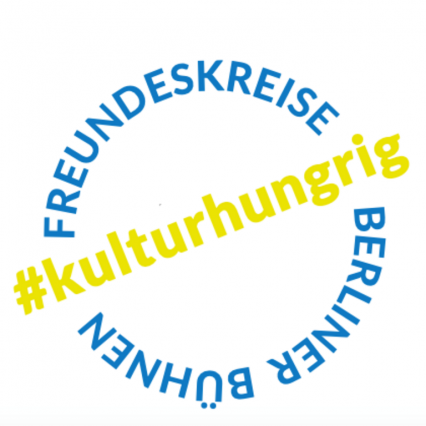 Logo der Initiative #kulturhungrig
The operahouse has been welcoming refugees from Ukraine with free admission since the beginning of the war. In the coming weeks, the Deutsche Oper will offer the following evenings for refugees - and will welcome these guests warmly and personally on these evenings. 
The programme can be booked by emailing the number of guests and, if applicable, accompanying persons, the age group, to info@deutscheoperberlin.de
"The Magic Flute" on 28 April and 
"Nabucco" on 20 and 27 May
"Madama Butterfly" on 25 and 29 May
On 13 March 2022, the Deutsche Oper Berlin hosted a benefit matinée for Ukraine under the title VA PENSIERO to express its solidarity with all peacemakers and the people of Ukraine. In addition, after announcements by the artists on stage, the most prominent of whom was Marina Abramović, the staff of the theatre - who usually walk through the foyers in the costume of the current performance - collect donations during all breaks. More than € 110,000 have already been collected. A large-scale aid campaign by the orchestra has also led to extensive aid shipments to Ukraine. Further activities and the aid organisation Ukraine-Hilfe-Berlin, which is associated with the Deutsche Oper, can be found at here.
On 24 May 2022, the Tischlerei will host an evening that could not be more topical and that takes an artistic look at the current political world situation. The production LIEDER VON VERTREIBUNG UND NIMMERWIEDERKEHR is already the fourth co-production of Deutsche Oper Berlin with the Munich Biennale. Together, the Austrian composer Bernhard Gander (*1969), the Ukrainian author Serhij Zhadan (*1974) and the director Alize Zandwijk are developing a new music theatre with soloists of the Ensemble Modern and the Deutsche Oper Berlin. In vivid words, Serhij Zhadan's libretto for this world premiere depicts the dramatic effects of war, displacement and flight on the human individual. More information can be found at hier.