A special kind of get-to-know-you concert
Together for the future
To kick off the 2022/23 season, some of the new scholarship holders introduced themselves to the members of the Talent Circle. In keeping with this commitment of a "musical" family, the Circle met privately for music and a French aperitif.
In this way, supporters and recipients got to know each other personally and talked about current engagements, competitions and the future in a pleasant atmosphere. In addition to financial support, this personal exchange is an essential element of the Talent Circle's work to support the talents as they need it - with master classes, German lessons and many other forms of assistance.
The Talent Circle currently supports six scholarship holders plus, for the first time, a répétiteur who also supports the young singers as a scholarship holder. In addition, the Talent Circle has now taken over the sponsorship of 15 academy students.  
In the photo from left to right: Albert Mena (répétiteur) / Fam. Landt - Arianna Manganello (mezzo-soprano) / Dr. Fabian Sell - Maria Motolygina (soprano) / Belcanto - Joel Allison (former scholarship holder now in the ensemble) - Sua, Jo (soprano) / Gerhard Baum - Artur Garbas (baritone) / Walter Sandvoss.
Don Giovanni with Alexei Botnarciuc as Masetto, Alexandra Hutton as Zerlina, Samuel Dale Johnson as Don Giovanni, Heidi Stober as Donna Elvira © Bettina Stöß
The forward-looking approach of our »Förderkreis« consists partly in the fostering of up-and-coming singers. In any given season grants are awarded to at least five stipendiaries, whose proven ability then goes to amplify the combined talents of the ensemble of the Deutsche Oper Berlin. In recent years the Society has also entered into private sponsorship arrangements, with patronages being funded by Walter Sandvoss, the Manfred Strohscheer Foundation, Bettina Volle [in memoriam] and a group of enthusiasts running a »bel canto grant«. Bel canto patrons are: Bert Günzburger and Lothar Matthiak, Renate and Claus Jürgen Diederich, Horst Ihloff, Florian Chiutu-Haeger and Rolf Haeger, Dr. Dr. Peter Kaulen and Eliseo Diroma. A huge THANK YOU goes to these people.
The roll call of singers nurtured over the decades is a testimony to the success of the Society, which promoted the early careers of singers such as Martin Gantner, Laura Aikin, Arutjun Kotchinian, Robin Johannsen, Yosep Kang, Ante Jerkunica, Thomas Blondelle, Heidi Stober, Hulkar Sabirova, Hila Fahima, Clémentine Margaine, Tobias Kehrer, Alexandra Hutton, Siobhan Stagg, Attilio Glaser, Annika Schlicht, Judit Kutasi and Robert Watson, all of whom have gone on to carve international reputations.
Alone the performances of DON GIOVANNI in last seasons would be a pale shadow of themselves without the raft of former stipendiaries who populate the cast. The title role is taken – for the third time in succession – by one-time stipendiary Samuel Dale Johnson, with his trusty manservant sung by Seth Carico, another former beneficiary. Donna Anna is rendered by Flurina Stucki, Don Ottavio by Matthew Newlin and Donna Elvira by Jacquelyn Stucker. Recipients of Society grants often sing significant parts in their first season. These have included Hoffmann [Robert Watson], Alfredo Germont [Andrei Danilov] and Adele [Meechot Marrero]. But they are also essential adjuncts to the ensemble in their portrayal of 'B-list' characters and their interpretation of minor roles in works by composers ranging from Mozart, Wagner and Puccini to Britten, Shostakovich and Korngold.
Scholarship holders of our Förderkreis
Lilit Davtyan / Soprano / 
Manfred Strohscheer-Stipendiatin 
Hye-Young Moon  / Soprano /
Stipendiatin der Familien Heidi und Dr. Karlheinz Knauthe & Theodora Schnauck-Betow
Artur Garbas / Baritone /
Walter-Sandvoss-Stipendiat
Kieran Carrel / Tenor /
Stipendiat von Dr. Fabian Sell-Stipendiat und Gerhard Baum 
Kyle Miller  / Baritone / 
Belcanto-Stipendiat
Jisu Park / Pianist and répétiteur /
Stipendium der Familie Dr. Constanze und Olfert Landt
Scholarship holders of Opera Foundation
Chance Jonas-O´Toole / Tenor
Christian Simmons / Bass baritone
Other scholarship holders 
Youngkwang Oh / Bass / WCN Stipendium Südkorea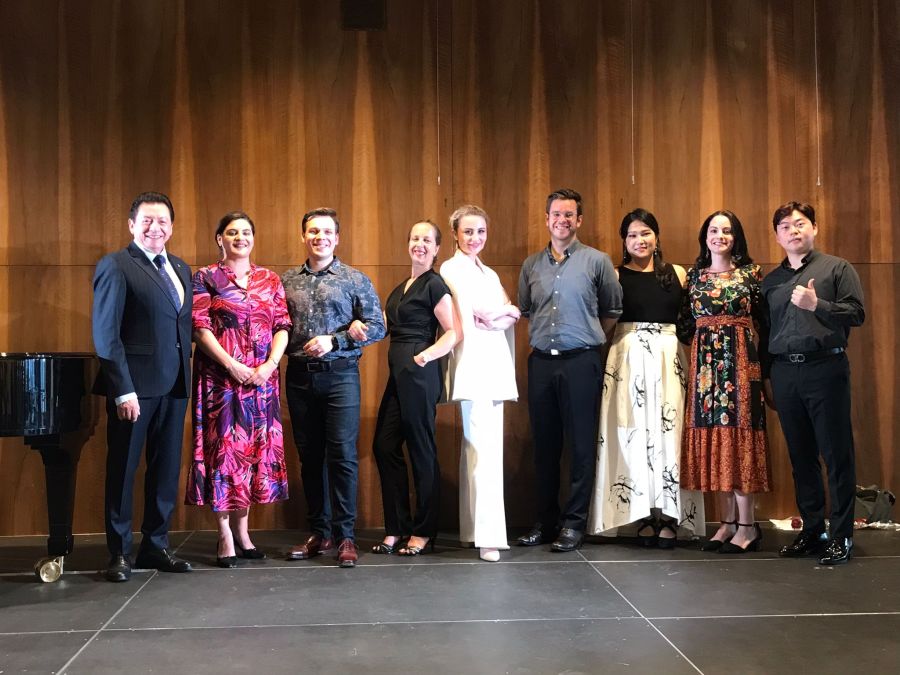 Meisterklasse mit Francisco Araiza
Francisco Araiza with Viviana Barrios, Andrei Danilov, Elda Laro, Valeriia Savinskaia, Tyler Zimmerman, Antonia Ahyoung Kim, Gina Perregrino and Samueol Park
For the first time, the Talent Circle of the Förderkreis der Deutschen Oper Berlin was able to offer a master class to the scholarship holders of the 2022/2023 season. The Mexican tenor Franciso Araiza - with 50 years of stage experience - trained the young singers not only vocally. As a master of his craft and with an almost inexhaustible repertoire of stage experience, he worked out with the scholarship holders how arias and parts can be performed with more presence and expression.
The South Korean baritone Samueol Park summed it up: "I went on stage as Samueol and came back down as the Marquis of Posa."
The master classes are to be held again next season.
This year we want to add another string to the support we provide to the younger generation of singers at the Deutsche Oper Berlin. To date, the Society of Friends and Patrons of the Deutsche Oper Berlin has been instrumental in enabling young singers to get a foot on the first rung of their chosen career ladder. In so doing has also fostered the development of the Deutsche Oper Berlin's own first-class ensemble.
In light of the straitened circumstances experienced – at least in the short term – by everyone concerned, the Society now plans to enlarge on its successful work by launching the Talent Circle project to ensure that the quality and quantity of support for the new generation of professionals is unaffected. The Talent Circle has been conceived by the Society as an additional body providing not only financial assistance but a pool of personal sponsors.
If you would like to donate to the Talent Circle, you will meet up-and-coming artists and have the chance to savour their singing skills at small, exclusive gatherings and chat with them about their careers and dreams.
How can you help us to foster young talent?
A donation of €3,100 or more will go towards the cost of a grant for one individual. €15,500 will make you the exclusive sponsor of a stipendiary for a whole year.
If you would like to know more, please contact
Silke Alsweiler-Lösch
E-Mail loesch@deutscheoperberlin.de 
Telephone +49 (030) 34 384 240
The scholarship of the Patrons of the Deutsche Oper Berlin e. V. enables up to 5 young singers of all nations (not older than 30) to get to know the work processes at an ensemble of an opera house. The scholarship holders can work with coaches at the Deutsche Oper and can perform on stage in mostly smaller parts, according to the needs.
The stipend usually begins on 1 September of the respective calendar year, and ends on 30 June of the following year. The monthly stipend currently amounts to € 1,550.00 and is paid in this amount with no deductions. Because the stipend does not fulfil the requirements for tax exemption as per § 3 no. 44 EstG (Income Tax Act) according to the current legal concept of the fiscal authorities, we explicitly state that the beneficiary is obligated to file this income and state it in their personal income tax statement. The Deutsche Oper Berlin will pay an additional € 1,200.00 gross per month for appearances in opera performances.
To complete an application please send your materials via mail to barrios[at]deutscheoperberlin.de 
We don´t have any kind of deadline for applications. Please see the above mentioned notes for each season.
Considering the large number of applications, it may take several weeks before you receive an answer.
We ask for your understanding!
Needed documents are
an updated CV as pdf file
Your repertoire list
a headshot
an audio file or youtube link with one aria (opera):
if possible out of the Deutsche Oper Berlin repertoire
Please note, we cannot receive any kind of document that you send over a dropbox. Any document that you do not sent in a pdf format is in danger to not be able to get through our firewall.
Season 2023/24
The scholarships for this season have already been awarded.
Season 2024/25
We are accepting applications for the scholarships for the 2024/25 season without a specific deadline until spring 2024. However, the scholarships for soprano have already been awarded, so no more applications will be accepted.
For any further information please contact
Viviana Barrios, Tel. +49 (0)30-343 84-204
barrios[at]deutscheoperberlin.de